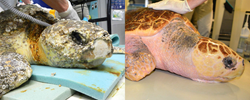 Charleston, SC (PRWEB) July 10, 2014
A 182-pound loggerhead sea turtle treated by the South Carolina Aquarium Sea Turtle Rescue Program for more than thirteen months has fully recovered and is ready to return to the deep blue sea. The public is invited to say goodbye to Briar on Tuesday, July 15, 2014 at 4:30 p.m. at the Isle of Palms County Park. The release is being held in partnership with the South Carolina Department of Natural Resources (SCDNR) and the Charleston County Parks and Recreation Commission (CCPRC). Attendees should plan to carpool, arrive early, and expect to pay for parking at the county park.
More about Briar:
Briar, an adult female loggerhead sea turtle, stranded on the beach in Myrtle Beach in May of last year. She was found emaciated and severely anemic and her vital signs were dismal. Briar was also covered in barnacles as a result of her lethargic state while in the ocean. Once admitted to the Aquarium's Sea Turtle Hospital, prognosis of her survival was questionable and staff came to work each morning with fingers crossed she was still alive. Over the next six months, Briar responded well to medical treatments and gained more than 50 pounds, putting her back in a healthy weight range. But soon after, staff and volunteers noticed that Briar was having trouble finding food in her tank. Aquarium veterinarian Dr. Shane Boylan examined Briar's eyes and discovered that she had developed cataracts which causes blindness. Confronted with such a rare medical issue, Dr. Boylan consulted Dr. Anne Cook with Animal Eye Care of the Lowcountry, and in April 2014, Dr. Cook led a team in the surgical removal of the damaged lenses. Almost immediately after surgery, rescue staff could see a difference in Briar's sight as she was able to track down and eat her normal diet of cut fish as well as live blue crabs. This week Briar received a clean bill of health and is ready to be released back into the Atlantic Ocean.
For more on Briar's story click here.
For photos of Briar click here.
To track the progress of current patients in recovery, visit our Sea Turtle Rescue Program blog at scaquarium.org. Be sure to follow us on Facebook and Twitter for the latest updates from the hospital, including public sea turtle release details.
More on the sea turtle release:
Who: The South Carolina Aquarium Sea Turtle Rescue Program and the CCPRC
What: Public sea turtle release
When: Tuesday, July 15, 2014 at 4:30 p.m.
Where: Isle of Palms County Park, Isle of Palms, S.C.
Why: To return a threatened loggerhead sea turtle back into the wild
You too can help threatened and endangered sea turtles. If you find a sick or injured sea turtle, contact the SCDNR sea turtle hotline at (800) 922-5431. You can also help care for sea turtles in recovery in the South Carolina Aquarium Sea Turtle Rescue Program by going to scaquarium.org and making a donation and by visiting the South Carolina Aquarium and booking a behind-the-scenes tour of the Sea Turtle Hospital.
For all media inquiries, please contact Kate Dittloff at (843) 579-8660 or kdittloff(at)scaquarium(dot)org
About the South Carolina Aquarium Sea Turtle Rescue Program:
In partnership with the South Carolina Department of Natural Resources (SCDNR), the South Carolina Aquarium Sea Turtle Rescue Program works to rescue, rehabilitate and release sea turtles that strand along the South Carolina coast. Located in the Aquarium, the Sea Turtle Hospital admits 20 to 30 sea turtles each year. Many of these animals are in critical condition and some are too sick to save.
According to SCDNR, over the last 10 years the average number of sea turtle standings on South Carolina beaches each year is 133. Of these, roughly 10% are alive and successfully transported to the Sea Turtle Hospital. To date, the South Carolina Aquarium has successfully rehabilitated and released 137 sea turtles and is currently treating 7 patients. The average cost for each patient's treatment is $36 a day with the average length of stay reaching nine months.
About the South Carolina Aquarium:
The South Carolina Aquarium, Charleston's most visited attraction, features thousands of amazing aquatic animals from river otters and sharks to loggerhead turtles in more than 60 exhibits representing the rich biodiversity of South Carolina from the mountains to the sea. Dedicated to promoting education and conservation, the Aquarium also presents fabulous views of Charleston harbor and interactive exhibits and programs for visitors of all ages.
The South Carolina Aquarium, a 501(c) (3) not-for-profit organization and is open daily from 9 a.m. to 6 p.m. The Aquarium is closed Thanksgiving Day, half day Dec. 24 (open 9 a.m. to 1 p.m.) and Dec. 25. Admission prices are: Toddlers (2 and under) free; Youth (3-12) $17.95; Adults (13+) $24.95. The Aquarium plus the 4-D Theater experience is free for Toddlers, $22.95 for Children, $29.95 for Adults. The 4-D Theater experience only is $6.95 for Children and Adults, and free for Members. For more information call 843-720-1990 or visit scaquarium.org. Memberships are available by calling 843-577-FISH.