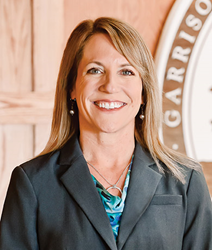 Striking the balance between tradition and innovation, between the past and the future, and between academic rigor and the higher calling to lead with passionate purpose—this is what I hope to bring to Garrison Forest.
Owings Mills, Maryland (PRWEB) July 12, 2014
Nationally known educator and innovator in girls' leadership programs, Kimberley J. Roberts, Ph.D., began her tenure as the 10th Head of Garrison Forest School on July 1.
Dr. Roberts, a Californian born and raised, previously served as assistant head of school and director of advancement at her alma mater, Castilleja School, an all-girls' school in Palo Alto, California. From 2003 to 2009, she was director of development at Mark Day School in San Rafael, California. Before returning to the West Coast in 2003, she spent nine years at the University of Virginia, teaching literature and serving as an adjunct assistant professor in the Studies in Women and Gender Program. Her Garrison Forest School tenure follows that of Peter O'Neill who retired on June 30 after 20 years as Head of School.
Known nationally for implementing innovative leadership programs, Dr. Roberts co-founded and directed U.Va.'s Young Women Leaders Program, a mentoring program for adolescent girls from under-resourced communities; in addition, she was the director of diversity and advocacy programs for the university's Women's Center. Her non-profit leadership extends nationally from the board presidency of Now & Next Dance Mentoring Project (Washington, D.C.) to board membership on the Palo Alto's Children's Health Council and former chair of San Francisco's GirlSource.
With her appointment, Garrison Forest School, an all-girls' K-12 day and boarding school with a coed preschool in Owings Mills, Maryland, continues its tradition of strength as an educational leader and innovator in the 21st century. Dr. Roberts' first year at GFS marks the 10th anniversary of the groundbreaking Women in Science and Engineering (WISE) program at GFS, a STEM-based partnership with Johns Hopkins University, created to place talented GFS students in Hopkins research labs. In the ten years of the program, 125 GFS students have participated, with the majority continuing STEM studies in college and graduate school. Also celebrating ten years is the Elsie Foster Jenkins '53 Community Service Fellows program, a selective program for in-depth summer community service in a location of the student's choice.
Dr. Roberts holds a B.A. from the University of California at Berkeley, M.A. from Mills College and Ph.D. from the University of Virginia, all in English Literature. She and husband attorney Michael Laine, daughter Charley, GFS Class of 2022, and son Ellis live on campus as part of Garrison Forest's regional, national, and international boarding community.