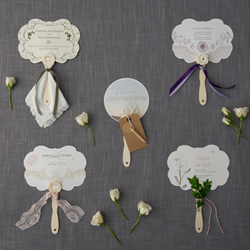 Dunmore, AB (PRWEB) July 11, 2014
The hot weather that summer brings is wonderful for outdoor celebrations. From short and sleeveless wedding dresses to outdoor ceremonies, summertime brings with it a host of new and exciting wedding opportunities. It does however also bring with it its' own set of problems – not the least of which is how to ensure that the wedding favors a couple picks don't run the risk of melting or befalling other hot weather mishaps. Coming to the rescue of couples facing this daunting problem, Weddingstar offers inspiration and products to help every bride and groom-to-be have unique and summer ready wedding favors set to last and wow.
See Weddingstar's best inspirations and products for flawless summertime favors here: http://blog.weddingstar.com/product-spotlight-top-ten-summer-wedding-favors/
What Makes a Perfect Summer-Ready Wedding Favor?
While a couples' distinct personalities, wedding style and budget all come into play when deciding on the perfect favor, there are a few considerations that have to be kept in mind when planning summer nuptials. From a favors ability to withstand the hot temperatures to adding additional comforts to friends and family, Weddingstar has a host of one of a kind inspirations that follow the rules of summer to be a real treat. Suggestions for summer-ready wedding favors include:
1. Dual Purpose: An outdoor ceremony and/or reception can be beautiful – but it can also get hot. Beat the heat with dual purpose wedding favors like hand fans.
2. Edibles Beware: While guests might love a sweet treat, gummy candies and other popular choices risk melting or "sweating" in the heat of summer. Instead pick edibles that can weather the heat like spice mixes and teas.
3. Melting Mishaps: Not only do treats often melt in the heat but classics like candles can also befall similar fates. Steer clear of anything that can melt and go for something unique like seed paper notes or bud vases with blooms.
4. Simple is Sweet: While wintertime favors might benefit from delicate details, summer is the time to keep things simple, sweet and portable.
5. Customization Adds Character: A simple sticker, twist of twine or tag can add lots of personality to favors that still befit the previous point.
Keeping these five keys in mind, the sky is the limit for what wedding favors a couple can have at their summertime event. From ways to cool guests to sharing a favorite spice rub, summer is the time to get creative and think of new and exciting favor ideas to bring a sure smile to every guests face. Building on the suggestions above, even more summertime wedding favor inspirations can be found with Weddingstar's top ten countdown: http://blog.weddingstar.com/product-spotlight-top-ten-summer-wedding-favors/
About Weddingstar
Weddingstar Inc. is one of the world's leading designers, manufacturers and retailers of wedding decorations and accessories. Dedicated to providing quality service to brides around the globe, Weddingstar ships to over 100 countries worldwide with distribution points in Europe, North America, Argentina, Australia and Russia. Featuring an ever-expanding selection of bridal accessories with over 3,000 different product offerings, Weddingstar is a one stop destination for every wedding need. With 30 years of experience in the wedding industry and having received numerous business awards, Weddingstar has earned a reputation as the source for 'Putting the Wow into Weddings.' For more information please visit http://www.weddingstar.com.