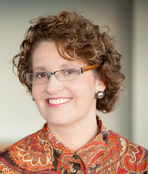 I look forward to further increasing The Harwood Institute's visibility as the premier leader in community change and developing community leaders.
Bethesda, Md. (PRWEB) July 10, 2014
The Harwood Institute for Public Innovation is pleased to announce the appointment of Deborah Alvarez-Rodriguez as Chair of the organization's Board of Directors.
Alvarez-Rodriguez is a successful social entrepreneur and social justice advocate. Blending the power of philanthropy, business and environmental sustainability, she has helped transform numerous organizations through her executive leadership, board service and consulting. She founded Seam Innovation in 2013, a strategic advising practice serving leaders of boundary-spanning organizations and enterprises throughout the United States.
"This is a tremendous opportunity for me," said Alvarez-Rodriguez, who has more than 25 years of executive management experience in the nonprofit, philanthropic, public, private and social sectors. "I look forward to further increasing The Harwood Institute's visibility as the premier leader in community change and developing community leaders."
Rich Harwood, the Institute's Founder & President, said he is pleased to have Alvarez-Rodriguez at the board's helm. "I have long been an admirer of Deborah and her profound dedication to improving the public good," Harwood said. "With her leadership, we are well-positioned to achieve the many goals we have set to move this country forward."
The Harwood Institute is a national nonprofit organization based in Bethesda, Md. that teaches and coaches people and organizations to solve pressing problems and change how communities work together. As head of the organization, Rich Harwood has dedicated more than 25 years to transforming communities and improving public discourse across the country.
The daughter of immigrant parents from Puerto Rico, Alvarez-Rodriguez was raised in Brooklyn and educated at Harvard-Radcliffe College. She is an award-winning CEO recognized for her dynamic and inclusive leadership style and known for catalyzing change within organizations to lead them toward greater innovation, accountability and impact.
The San Francisco Business Times named Alvarez-Rodriguez "The Most Admired Nonprofit CEO." She also received the Leadership Award from Independent Sector, a network for nonprofits, foundations and corporations committed to advancing the common good. She is also the winner of Latino Leaders Magazine's Maestro Award for Philanthropy.
Alvarez-Rodriguez is known for using collaboration as an instrument for social change and has worked with a number of coalitions to improve the health and well-being of all people. She recently served as Interim CEO of The East Bay Community Foundation after serving on its Board of Directors for nine years.
During her nine-month service as Interim CEO, she helped raise $128 million in new funds aimed at advancing the Foundation's efforts to provide support for young children to succeed and to enhance economic opportunities for adults and families - particularly those with significant barriers to achieving employment and financial stability.
As President and CEO of Goodwill San Francisco, San Mateo and Marin Counties, Inc. from 2004- 2012, the organization moved from a deficit to profitability. Its revenue grew 80 percent – from $22 million to $42 million.
Upon Alvarez-Rodriguez's departure, the Goodwill branch was providing more than 25,000 people education, training, support and other services and serving 7,000 participants annually through its education and job training services. The organization also received the Governor's Environmental and Economic Leadership Award and earned one of the highest rankings from Charity Navigator, the largest independent charity evaluator.
Alvarez-Rodriguez began her career with an 11-year stint in health care, holding several community and city positions in health care planning and service delivery. In 1991 she was appointed the Assistant Director of Budget & Planning for the San Francisco Department of Public Health.
By 1998, she was a Senior Consultant for the Lewin Group, a nationally recognized health care consultancy. She also possesses a deep knowledge about children, youth and educational services and policy. As Director of Intergovernmental and School-linked Services for the San Francisco Unified School District, she worked with teachers, parents, students and businesses to implement Beacon Schools and school-based health centers.
In 1999, San Francisco Mayor Willie Brown appointed Alvarez-Rodriguez Director of the Department of Children, Youth and Their Families. She later joined the Omidyar Foundation as Vice President of Programs, where she helped implement a community, youth, and education grants portfolio.
Deeply committed to community service, Alvarez-Rodriguez currently serves on several boards and advisory groups. She was appointed to the Board of Recology, a for-profit, employee-owned company. Recology's vision of a "world without waste where resources are used and reused in a sustainable ecosystem that protects the environment and sustains our communities" reflects Alvarez-Rodriguez's personal and professional values.
She also serves on the board of Independent Sector and is co-chair of Rise Together, a United Way initiative to cut poverty. She has served on an array of boards ranging from The East Bay Community Foundation and the Cordes Family Foundation to Goodwill Industries International and the San Francisco AIDS Foundation.