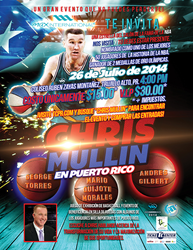 Trujillo Alto, Puerto Rico (PRWEB) July 13, 2014
Max International has recently announced that NBA Hall of Famer, Chris Mullin, will be the featured guest at its Charity Exhibition and Opportunity Meeting on Saturday, July 26th in Puerto Rico. Attendees will learn about Max's health products and distribution opportunities. Chris Mullin will participate in two exhibition basketball games and perform in a 3 point shoot-out.
Max International, the ultimate supplier of health- and energy-boosting supplements, has recently announced former NBA star Chris Mullin as the featured celebrity guest for its charity exhibition and business opportunity event being held at the end of the month. The event will be held at the Coliseo Ruben Zaya Montanez in Trujillo Alto, Puerto Rico on Saturday, July 26th to educate attendees on the health benefits of Max's supplements.
http://www.max.com/chrismullinpr/
NBA Hall of Famer, original Dream Team member and two time Olympic gold medalist Chris Mullin will be performing in a 3 point shoot-out and a wheelchair basketball exhibition with members from Federación de Baloncesto en Silla de Ruedas de Puerto Rico (FEBASIRU), the local NWBA team. Chris will also be playing an exhibition game with 20 well-known members of Puerto Rico's basketball history, including Mario Quijote Morales, George Torres, and Andres Gilbert.
Max International will also detail the rewarding business building opportunities it offers to potential Associates. Additionally, the event will also raise awareness about the National Wheelchair Basketball Association (NWBA) and donate a portion of the proceeds to charity.
"We are beyond thrilled to have an NBA legend with us at our event. Not only will it be an honor to spend time with Chris Mullin and watch the all-star back in action, but to be able to give people this once-in-a-lifetime opportunity while contributing to a noteworthy cause is truly remarkable. July 26th will surely be a night that both the participants and attendees never forget," said Joe Voyticky, Co-CEO of Max International.
General admission for the event at a cost of only $15 per ticket. Attendees who purchase a VIP ticket will receive an autographed photo of Mullin, who is one of the top 50 NBA players of all time and an original member of the 1992 Olympic Dream Team alongside Michael Jordan, Larry Bird, and Magic Johnson. For the price of $30, each VIP ticket also includes preferred seating at the event and samples of Max's health supplement products.
All interested parties are welcome to attend the event, which will be held at the Coliseo Ruben Zaya Montanez in Puerto Rico from 4 to 8 pm on July 26th. General Admission and VIP tickets are currently available for purchase at the ticket purchasing site TCPR.com. Anyone who searches for "Chris Mullin" on the TCPR home page will be able to purchase tickets for the Chris Mullin Max Event.
For more information on the upcoming event or to learn more about Max International, go to: http://www.max.com. For further inquiries, contact Tonya Orr via email at torr(at)max(dot)com.
About Max International, LLC:
Max International, LLC was founded in 2007 and currently conducts operations in the United States, Canada, Australia, New Zealand, Colombia, El Salvador, Singapore, the Philippines, Hong Kong, and Ghana through a direct sales force, made up of more than 100,000 home-based distributors. Its line of uniquely formulated health products employ proprietary health technology, including the patented RiboCeine™ compound, a revolutionary nutrient that helps promote healthy cell functioning and overall well-being. The founder of Max Intl., Steven K. Scott, started the company to pursue his dream of empowering people throughout the world, seeing the opportunity to share the groundbreaking products with others to help promote wellness and health.