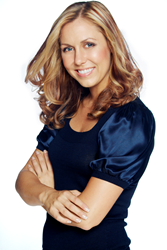 The agenda will feature more than 30 hours of potentially life-changing education on a myriad of self-directed investing topics, often delivered by real people who are succeeding in today's dynamic market.
Cleveland, Ohio (PRWEB) July 14, 2014
Equity University, the education arm of Equity Trust Company, is excited to announce that television star, real estate expert and self-directed investor Kendra Todd will be the keynote speaker at the 2014 Equity University Wealth Building Summit, to take place September 19-21 in Orlando, Florida.
Todd, a top-performing real estate agent and the first female winner of the NBC show The Apprentice, will kick off the conference on September 19, by revealing how she became one of the top-ranked real estate agents in the country and share how attendees can propel their real estate investments.
One of the youngest, most diversely successful entrepreneurs today, Todd is widely recognized for her involvement in the record-breaking $95-million sale of Donald Trump's Palm Beach oceanfront estate during her tenure with his company. She also starred in the HGTV series, My House Is Worth What?, and is an occasional FOX News real estate contributor. Todd was named one of the top 30 Realtors under the age of 30, and currently runs one of the highest producing Keller Williams groups worldwide.
Todd's highly anticipated insights will provide a fitting introduction to the Summit, which draws industry titans as well as everyday investors who reveal practical ways investors can take control of their own financial future with wealth-building and tax-reducing tactics.
The agenda will feature more than 30 hours of potentially life-changing education on a myriad of self-directed investing topics, often delivered by real people who are succeeding in today's dynamic market, including:

Real estate investing strategies for investors of all experience levels, from rehabbing to creating a land trust
The very latest on emerging investment trends, including crowdfunding, from industry pioneers
Actual clients speaking for the first time anywhere on how they are winning with real estate and self-directed investments and how the ordinary investor can replicate their success
Much more
In addition to the most exclusive, comprehensive alternative investment education, the Summit will provide ample networking opportunities (more than ever before) for the more than 500 like-minded investors and industry leaders.
The sixth annual event, expected to be the largest yet, takes place at the Omni Orlando Resort at ChampionsGate. Those interested in reserving a spot are encouraged to register now before admission increases on August 1, 2014. Additionally, Equity University has secured a limited number of rooms for attendees at the Omni Resort at the discounted rate of $143 plus tax/night.
A Self-Directed IRA enables an individual to invest his or her retirement savings in the stock market as well as alternative investments like real estate, renewable energy, and precious metals, etc.. The conference meets the need for quality education on this attractive investing approach which continues to grow in popularity.
Details and registration for the Equity University Wealth Building Summit are available at http://www.euwealthsummit.com. Registration can also be completed by calling 1-888-382-4727, ext. 393 or emailing events(at)equity-university(dot)com.
Equity University, the educational arm of Equity Trust Company, empowers thousands of investors each year by increasing their knowledge of self-directed IRAs and the many investment possibilities the accounts provide. Equity University offers a variety of learning resources for investors of every level, including webinars, books, recordings, and in-person events.
About Equity Trust Company
Equity Trust Company, with its corporate headquarters in Greater Cleveland, Ohio and operations in Sioux Falls, South Dakota, is at the forefront of the self-directed retirement plan industry. The Company specializes in the custody of alternative assets in self-directed IRAs, Coverdell Education Accounts, Health Savings Accounts and qualified business retirement plans. Along with its affiliates, Equity Trust Company provides services to more than 130,000 individuals and businesses nationwide with $12 billion in assets under custody. Since 1974, the Company and its affiliates have helped investors make tax-free profits through education, innovation, and a commitment to understanding individual needs. Visit http://www.TrustETC.com for more information.