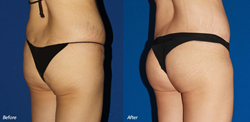 Newport Beach, CA. (PRWEB) August 04, 2014
Brazilian Butt Lift surgery (http://orangecountycosmeticsurgery.com/brazilian-butt-lift/) has become very popular in the recent years in Orange County, CA. As a specialist in buttock augmentation, Dr. Joseph T. Cruise has been able to evaluate the overall results of a large numbers of patients. The data collected shows Brazilian Butt Lift patients are not only obtaining a more shapely backside, but they are also experiencing improvement with skin texture and quality.
"Women coming to my practice for the Brazilian Butt Lift are most concerned with enhancing the shape and size of their buttocks. When they learn the procedure can also improve skin quality, minimizing the appearance of cellulite, they are even more excited," states Dr. Cruise.
To learn more about Brazilian Butt Lift in Orange County, please visit:
http://orangecountycosmeticsurgery.com/brazilian-butt-lift/
Orange County plastic surgeon, Dr. Joseph T. Cruise, specializes in Brazilian Butt Lift surgery with fat transfer. Some plastic surgeons elect to perform buttock surgery with the placement of silicone implants; however, Dr. Cruise only performs the procedure by way of fat transfer. He believes the ease of the procedure and recovery, along with the low rate of complication, makes this an ideal option for most patients. In addition, just as fat transfer to the face has shown to improve the texture and tone of the skin, the same is proving true for the buttocks. A large number of patients seeking BBL surgery to improve shape and volume also complain about the visibility of cellulite. Fat placed into the butt not only helps fill in dimpling, but acts as sort of a buffer between the skin and fat deposits, which in turn decreases the appearance of cellulite. Dr. Cruise mentions the Brazilian Butt Lift should not be viewed as a procedure for getting rid of unwanted cellulite, rather to improve the shape and size of the derriere with the possibility of seeing some improvement with skin quality, texture, and tone.
About Cruise Plastic Surgery:
Cruise Plastic Surgery, located in Newport Beach, Orange County, California, is one of the top plastic surgery practices in the Southern California region. The director, Dr. Joseph T. Cruise, is a fully trained, board-certified plastic surgeon specializing in facelift, breast augmentation, tummy tuck, and other cosmetic surgery procedures. Dr. Cruise is also one of the region's best known surgeons for rhinoplasty (nose surgery), neck lift surgery, and gynecomastia. His dedication and focus is clearly evident in the comprehensive educationally based web site he manages, and the concierge-like customer service his patients receive from the entire office. Experience and predictably good results have earned him the distinction of being one of the best plastic surgeons in Orange County.