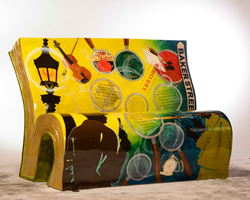 The BookBench is part of the 'Books about Town' 'initiative that will see dozens of literary benches placed in public places, then auctioned off to raise money for literacy.
(PRWEB UK) 14 July 2014
Fans have the chance to both make and preserve Sherlockian history as the record attempt is raising funds for the restoration of Sir Arthur Conan Doyle's former home Undershaw. Some historians claim that without Undershaw there would be no Sherlock phenomena today. Imagine a world without BBC Sherlock, CBS Elementary or the Warner Brothers Movies?
Undershaw is where Conan Doyle brought Holmes back to life after killing him off at the Reichenbach Falls. It's also where he wrote Hound of The Baskervilles which catapulted Holmes to international fame and recognition. Whilst popular in the UK, until The Hound the character was largely known only in the UK, but that all changed with that story garnering a worldwide following.
Sherlock Holmes already holds the Guinness Worlds Records title for the most portrayed character on screen – now fans will come together at UCL to set the record and take part in a raffle and photo shoot. Fry, Brealey, and Rankin have all provided signed prizes for the raffle and although filming schedules make it tough for them to take part in person the organisers hope for at least one surprise guest on the day.
Mark Gatiss is the patron of the Undershaw Preservation Trust (UPT) and has contributed to a book also being launched on the day. 'Two, To One, Be' is a collection celebrating the saving of Undershaw from destruction. The building is now in the hands of a school for learning difficulties, Stepping Stones, but until last year was subject to an intense legal battle that raged all the way to the high court as developers aimed to destroy the building despite its Grade II listing.
Hundreds of thousands of fans, many of whom contribute to the Saveundershaw group are overjoyed at the new ownership of the building. The UPT has committed to continue fundraising and the first two projects are to restore Conan Doyle's study and the stunning stained glass windows.
A dozen lucky participants will also take part in a second photo-shoot with the National Literacy Trust's Sherlock BookBench. The BookBench is part of the 'Books about Town''initiative that will see dozens of literary benches placed in public places, then auctioned off to raise money for literacy' to 'that brings 50 unique BookBench sculptures to the city, created by local artists and famous names to celebrate London's literary heritage and reading for enjoyment. In October the BookBenches will be sold at an auction at the Southbank, with all proceeds going towards the National Literacy Trust's work to improve literacy in the UK .'
Tickets for event are available from Eventbrite – http://bit.ly/sherlockworldrecord – participation in the record attempt itself is free of charge.
About Undershaw Preservation Trust
With Mark Gatiss as our Patron/Sponsor the UPT was set up in August 2009 by John Gibson, FRICS and co-founders Lynn Gale and Sue Meadows to secure Undershaw the former home of Sir Arthur Conan Doyle for future generations.
About MX Publishing
MX Publishing is the world's largest specialist Sherlock Holmes publisher, with over a hundred titles and fifty authors creating the latest in Sherlock Holmes fiction and non-fiction. From traditional short stories and novels to travel guides and quiz books, MX Publishing cater for all Holmes fans. The collection includes leading titles such as Benedict Cumberbatch In Transition and The Norwood Author which won the 2011 Howlett Award (Sherlock Holmes Book of the Year). MX Publishing also has one of the largest communities of Holmes fans on Facebook with regular contributions from dozens of authors. Phone on 07837-550025 or steve@mxpublishing.co.uk
About the National Literacy Trust
National Literacy Trust are a national charity dedicated to raising literacy levels in the UK. Their research and analysis make us the leading authority on literacy. We run projects in the poorest communities, campaign to make literacy a priority for politicians and parents, and support schools.
Visit http://www.literacytrust.org.uk to find out more, donate or sign up for a free email newsletter. You can also find them on Facebook and follow us on Twitter. Phone us on 020 7587 1842 or email contact@literacytrust.org.uk.