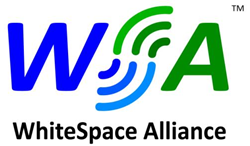 Chelmsford, MA (PRWEB) July 15, 2014
The WhiteSpace Alliance (WSA) ®, a global industry organization enabling sharing of underutilized spectrum, today announced it has initiated development of its WSAConnect interoperability specification.
The WSAConnect specification will enable whitespace devices to discover and communicate reliably with appropriate shared spectrum databases. The emerging specification builds upon the current International Engineering Task Force (IETF) Protocol to Access Whitespace Databases (PAWS) specification. WSAConnect will provide a standard messaging framework to allow devices to query those databases to determine availability of spectrum for a particular location. The specification will enable secure whitespace operation across devices, spectrum and geographies. This flexible messaging mechanism is critical to establishing a robust spectrum access system to better utilize available spectrum. WSAConnect is expected to be completed in Q3, 2014.
"WSA continues to lead the industry in developing the interoperable frameworks that will bring widespread deployment of whitespace solutions," said Dr. Apurva N. Mody, Chairman of WhiteSpace Alliance. "Equally important, we will develop test suites and procedures to certify device and database compliance, fueling a truly global ecosystem."
WhiteSpace Alliance member, iconectiv, is playing a significant role in the new specification. "iconectiv is pleased to be contributing to the development of the WSAConnect interoperability specification, adding their state-of-the-art database technology supporting dynamic spectrum sharing to the ecosystem. This growing ecosystem will enable expanded internet access in the United States and around the world," said John P. Malyar, Chief Architect, iconectiv.
WhiteSpace Alliance is the developer of the recently announced interoperability specification for Wi-FAR™ networks. WSA specifications facilitate reliable deployment of whitespace and spectrum sharing solutions for a wide variety of applications.
WhiteSpace Alliance has a following of more than 200 major commercial, academic, government and regulatory organizations around the world. WSA member organizations benefit from access to technical specifications that decrease development costs; expanded access to global markets, regulators and government agencies; and ongoing marketing support at no additional cost. Consumers benefit from a multi-vendor, interoperable ecosystem that brings down the overall cost of broadband access. For more information on WhiteSpace Alliance, please visit http://www.WhiteSpaceAlliance.org.
About WhiteSpace Alliance
The mission of the Whitespace Alliance (http://www.whitespacealliance.org/) is to promote the development, deployment and use of standards-based products and services as a means of providing broadband capabilities via WhiteSpace spectrum. By promoting the use of standards, the Alliance will enable companies to provide broadband connectivity at reasonable cost. The WSA will also act as an enabler of the emerging white spaces ecosystem by helping to put in place interoperability, conformance, and compliance testing to make sure that our member stakeholders get the needed information & collaborations to succeed both in the market place and with regulatory requirements. Interoperability specifications will allow multiple vendors to enter the market and help to reduce the costs for the consumers. WhiteSpace Alliance promotes the use of IEEE, 3GPP and IETF Standards for use in the WhiteSpaces.
WSA is a registered trademark of the WhiteSpace Alliance
WSAConnect is a trademark of the WhiteSpace Alliance
Wi-FAR is a trademark of the WhiteSpace Alliance