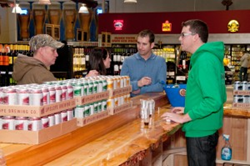 Weekly Tastings on a custom bar made from local beetle kill wood.
Parker, CO (PRWEB) August 26, 2014
Bruin Spirit's, a full service liquor store, is celebrating 1 year in business, offering a new experience to Parker, Colorado's wine, beer and spirits enthusiasts. Fully staffed with knowledgeable employees, the store also offers a Sommelier, as well as Beer, Wine, and Liquor Specialists to assist you in selecting the perfect product.
Additionally, a new custom tasting bar has been built using local beetle kill. This beautiful piece of art lends itself to weekly tastings of beer, wine or spirits. Stop by - and hear directly from Beer Makers, Wine Makers, or Distributors about great products, and try a free sample while in the store.
Tasting are held most Fridays and Saturdays from 4 pm - 6:30 pm.
Bruin Spirits, Inc. 11177 S. Dransfeldt Rd., Suite 139 Parker, CO 80134 Phone (303) 840-1678