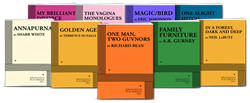 Easton, CT (PRWEB) July 16, 2014
Thirty-six new e-Scripts from leading theatrical publisher Dramatists Play Service have been added to the growing library of titles available on the Scene Partner® WebStore for use in the Scene Partner App. Stemming from the worldwide e-Script agreement between Dramatists Play Service and MyTheaterApps.com, the new product release brings the total number of DPS plays in the Scene Partner WebStore to more than 200. The new titles are now available to actors and theaters for use in memorizing lines and mounting future theatrical productions.
The new e-Scripts include:
GOLDEN AGE by Terrence McNally
It's opening night of Vincenzo Bellini's new opera I Puritani in Paris, and the Italian composer is determined to win the adulation of not only his audience but his colleagues and rivals as well. GOLDEN AGE portrays the final act of an artist whose desire for greatness has eclipsed all else.
"...cunningly made, genuinely moving… This is Mr. McNally's best play in years - maybe ever." – Wall Street Journal
FAMILY FURNITURE by A.R. Gurney
Amid the gin and tonics, vichyssoise, and tennis doubles of Buffalo's summer scene, siblings Nick and Peggy must confront their mother's possible infidelity, their father's apparent indifference, and their own increasingly complicated lovelives. Family Furniture is a coming-of-age-tale of one certain summer when everything shifts.
" It's an old-fashioned, 1950s-set gin-on-the-rocks drama, and it's a pure delight." – Entertainment Weekly
ONE MAN, TWO GUVNORS by Richard Bean
Adapted from Goldoni's A SERVANT OF TWO MASTERS, Bean's updated version of this classic farce is reset in Brighton, England during 1963. The UK production received 5-star reviews from every London newspaper and was the hit of the 2012 Broadway season.
" ...lifts audiences from mere happiness to eye-watering, comic hysteria. " – Variety
Other e-Script titles included in this product release are IN A FOREST DARK AND DEEP by Neil LaBute, ANNAPURINA by Sharr White, THE VAGINA MONOLOGUES by Eve Ensler, MY BRILLIANT DIVORCE by Geraldine Aron, ONE SLIGHT HITCH by Lewis Black and MAGIC/BIRD by Eric Simonson, among others.
These new e-Script titles are now available on the Scene Partner WebStore for only $9.99 each.
About MyTheaterApps.com:
MyTheaterApps.com is the developer of Scene Partner, an award-winning App for the iPhone, iPad and iPod Touch that helps actors learn their lines using their own scripts or by choosing from a growing collection of Publisher e-Scripts—the authorized Acting Editions designed specifically for use with Scene Partner. MyTheaterApps.com has e-Script agreements with Samuel French Inc., Dramatists Play Service, Music Theatre International and Theatrical Rights Worldwide.
Scene Partner merges text-to-speech software from the Acapela Group, voice recording and advanced algorithms to provide a unique and innovative tool for actors. It was chosen by BACKSTAGE as one of six essential technology tools for actors. Scene Partner has been featured in Variety, BACKSTAGE, Wall Street Journal Online, Stage Directions, Stage Magazine, SETC News and DRAMATICS Magazine.
"Scene Partner is incredibly intuitive and easy to use." —BACKSTAGE
"...forget the highlighters, flash cards and driving friends and family crazy… get your download of SCENE PARTNER, and take preparing for that next role to a higher level." —Stage Magazine