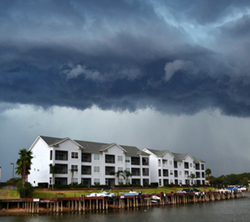 "We sometimes find that [previous] contractors didn't follow manufacturer specifications or code requirements."
Orlando, Florida (PRWEB) July 16, 2014
Jeff Grow, Commercial Manager and Jordan Grow, Commercial Estimator for Universal Contracting in Orlando, advise multifamily building and condo property owners to be on the lookout for several common and significant issues.
Multifamily property owners should be aware of all exterior penetrations and any areas where water intrusion commonly occurs. This is typical in gaps among exterior finishes and around windows, doors, and vents. Heat, over time, will dry and crack sealants. Every few years, the sealants used on building materials need updating: on hand rails, windows and doors, and around fixtures such as lights, fire alarm strobes, dryer and fresh air vents.
"Florida heat is so intense on buildings that it dries out coatings and sealants. It's imperative to use a high-quality product," says Jeff.
It's essential to check for cracking or shrinkage of sealants, and to then diligently remove and add new sealant material rather than simply adding more. Furthermore, exterior condo maintenance should also include repair of exterior coatings and repainting of the building – this should be done at the same time. Universal Contracting utilizes a premium system to re-coat the building exterior for protection that lasts a minimum of 10 years.
Additionally, some of the most significant issues found while inspecting multifamily properties in Orlando include wood damage around exterior windows and doors, and damage around the building foundation. The common culprits? Poor workmanship or improper installation by original contractors, irregular or improper maintenance, and product failure.
Jeff adds, "We sometimes find that the contractors didn't follow manufacturer specifications or code requirements. Contractors should always follow the manufacturers' specifications because they were created with product warranty and code requirements in mind. Once water breaches the coatings, it seeps into the wood, and then damage begins. Moisture creates mold and deteriorates wood. Many buildings have OSB sheathing – laminated plywood or particle board – that is basically compressed wood. The glues can deteriorate and, as a result, the wood becomes damaged which can lead to a loss of structural integrity."
"Moreover, heat in attics will increase temperatures and can cause glues to separate creating product failure – even without water intrusion. At that point, we must totally replace structural framing members such as studs, headers, and wood sheeting which requires that we remove all damaged material before replacing it."
What kinds of buildings have the most problems? According to Jordan Grow, wood frame buildings commonly have more issues. Compounding the problem, improperly installed weather barrier, stucco and siding – a common occurrence – contributes to wood rot and mold in wood construction.
"In our experience, the average age of buildings with these issues is between 5 and 10 years. From 2001 to 2007, there was a boom in construction," Jordan recalls. "As a result, this contributed to substandard installation. The massive demand produced a decline in the quality of workmanship. There was an insufficient labor force, so many builders were using unskilled labor."
About Universal Contracting
Jared Mellick and his father, Ken Mellick, are the owners of Central Florida's premier construction company, Universal Contracting, a family-run business which has been serving homeowners and business owners in the Greater Orlando area for more than 20 years. Together they host "In the House with Ken & Jared," a local radio home improvement and construction talk show that airs every Sunday at 2pm on WDBO 96.5FM. Visit the Universal Contracting website or call 407-831-0088 for more information or a free estimate on your next Commercial Project.