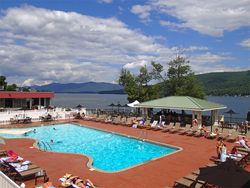 Lake George, NY - the synergy of all things summer.
Lake George, NY (PRWEB) July 17, 2014
Lake George Summer is on sale at The Georgian Resort!
Any 2 night Summer packages are now $50 off with an arrival on Sunday through Tuesday. Any 3 night Summer packages are $75 off with an arrival on Sunday through Wednesday. Lake George Summer Packages at The Georgian Resort include accommodations, dining and a host of inclusions - lake cruises, the Six Flags Great Escape, Summer Romance packages and more. Lake George Summer Package Page at The Georgian Resort.
Lake George, NY is the synergy of all things summer. With one of the most picturesque lakes in North America, spectacular Adirondack mountain scenery, and endless outdoor activities and attractions; Lake George remains a premier Summer vacation destination.
The outdoors call quickly in the Lake George area. Start out with a 32 mile long lake ringed with mountains - plan a boat ride, a fishing adventure, kayak trip, or a spectacular hike. With the advent of smart phones and tablet computers outdoor activity information is just a click away. Look on the Georgian Resort website for the area's most complete activity information including hiking maps downloadable to smart phones.
If outdoor adventure is in the vacation plans, look no further. The Lake George area is home to 2 great Summer whitewater rivers. The Sacandaga River (12 miles away) in Lake Luzerne has guided whitewater rafting and tubing trips 7 days a week (min. age 5). An all day guided whitewater rafting trip is also available on the Upper Hudson River near North Creek, NY (30 miles away). Trips on the upper Hudson are run on Tuesday, Thursday, Saturday and Sunday (min age is 8). For more adventure - discover parasailing over Lake George and the Adirondack Extreme ropes course in Bolton Landing, NY (10 miles away). Visit the Georgian Resort website's Adventure Page for outfitter directories, and videos.
Kids love Lake George in the Summer. Probably because it's right down the road from the Six Flags Great Escape Amusement Park in Queensbury, NY (6 miles away). But with lots of mini golf, arcades, water slide parks, go carts, lazer tag and more - family summer fun is guaranteed.
Free Concerts, with some just for kids, are held all week during the Summer in Lake George's Shepard Park, just a 5 minute walk from the Georgian Resort on Canada Street. Shepard Park is also home to the weekly fireworks show held every Thursday at 9:30PM. See the complete schedule and more concert information including links to neighboring Saratoga Performing Arts Center and the Lake George Music Festival all at the Georgian Resort Entertainment Page.
A big part of every Summer Vacation and getaway is eating. Lake George has every dining choice covered. Start out with a hearty breakfast at the Georgian Resort's breakfast buffet in Giovanna's On The Lake Restaurant. Giovanna's is open for evening dinner service 5PM - 10PM, seven days a week with nightly specials and a new Early Bird/Late Bird menu 5-6PM and 9-10PM with entrees just $13.95. Enjoy lunch at The Georgian's lakefront Cabana Bar, daily 11AM-3PM. If lakefront is not close enough, get on the lake with a luncheon or dinner cruise with Lake George Steamboat Company or Shoreline Cruises - information and links.
Call the Georgian for additional information 800-LAKE-GEORGE (525-3436) or visit http://www.GeorgianResort.com