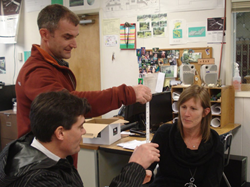 This Sierra College & PUHSD training on Design Thinking will show teachers how they can use technology for instruction in the classroom and off-site to better prepare the future STEM workforce.
Rocklin, CA (PRWEB) July 16, 2014
Teachers will learn how to connect with students in multiple locations using YouTube, digital portfolios and live broadcasting at a workshop on "Design Thinking in the Core Classroom" offered by the Sierra College STEM Collaborative with Placer Union High School District (PUHSD - on July 30 at Colfax High School. Instructors from other districts in the Sacramento region and Northern California are invited to participate in the morning program. Seating is limited; contact Carol Pepper-Kittredge, CACT Director, Sierra College for more information at (916)660-7801 or training (at) sierracollege.edu.
Colfax High School teachers, Jonathan Schwartz (Pre-engineering and Math) and Wade Wolff (Multimedia and Technology) will conduct the professional development session. They will show how the "Design Thinking" methodology applies in the classroom as well the shop, and demonstrate how to easily and inexpensively use technology to inspire students in the classroom as well as with distance learners.
During the session, participants will be introduced to applied mathematics lessons that can be used by both math and Career Technical Education teachers. At the hands-on training, attendees will also experiment with using YouTube, digital portfolios and Google+ Hangouts On Air to enhance delivery of the lesson and reach students at off-site locations.
Teachers will gain practical skills that they can apply immediately such as how to set up a YouTube channel and post videos. They will also see the best way to arrange the classroom for an interactive broadcast. Then, the attendees will participate in a Google+ Hangout On Air, experiencing the lesson from two locations.
There are many benefits to instructors who learn to utilize video and web-based technology for teaching, explained Carol Pepper-Kittredge, CACT Director, Sierra College. "With lower budgets and smaller student populations, especially in rural districts, teachers can use technology to reach more students," said Pepper-Kittredge.
"In addition, short videos can engage students by tying the lesson to a real world application," said Pepper-Kittredge. "This may encourage them to pursue careers in product development or advanced manufacturing, for instance, after seeing a clip of modern manufacturing facilities using robots and automated equipment."
According to Wade Wolff, students can gain confidence when they use technology to document their own skills development. "At Colfax High School, documenting projects and posting results in on-line portfolios is a critical component of their education," said Wolff. "Not only can work easily be reviewed by instructors; the students have complete documentation of their progress. The projects can be shown to prospective employers." In addition, Wolff explained that when teachers post instructional videos and other materials online, it provides a reference for students to review or to watch after an absence.
"Connecting to students who may or may not be sitting in your classroom is very cutting edge," said Pepper-Kittredge. "Participants in this Sierra STEM training offered through the PUHSD will see how instruction can integrate project-based, problem-solving and critical thinking skills that employers are seeking in the future workforce."
About Sierra College STEM Collaborative
The Sierra STEM Collaborative is funded by California Community College Chancellor's Office, to create a pipeline of students interested in technical careers. Students can pursue Welding, Mechatronics, Engineering, Energy Technology and Drafting & Engineering Support at Sierra College http://www.sierracollege.edu/. For information, go to http://www.sierraschoolworks.com or contact Carol Pepper-Kittredge, Sierra College at (916) 660-7801 or training@sierracollege.edu .