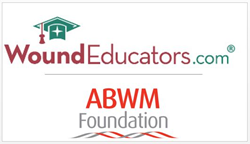 We're thrilled to earn the esteemed endorsement from The ABWM Foundation for our Wound Care Certification Courses
Great River, NY (PRWEB) July 17, 2014
WoundEducators.com, LLC, a leading online educational company committed to promoting the practice of evidence-based wound management, is proud to receive endorsement from The ABWM Foundation for the WoundEducators.com wound care certification courses. This esteemed recognition is a result of a thorough and comprehensive review of the WoundEducators.com web-based interactive wound care certification courses.
WoundEducators.com courses are the leading and most cost effective way to prepare students for the wound care certification examination, which is offered by an independent certifying board.
Wound care certification helps physicians, nurses, physical therapists and other health care practitioners to expand their skills, gain specialized knowledge, enhance their earning potential, improve career opportunities and attain professional recognition within their field. The WoundEducators.com courses include an online component with interactive modules, exams and video demonstrations plus a complete training kit, study guide, personal assistance and ongoing support.
The WoundEducators.com Wound Care Certification Courses have also been approved for over 50 physician, nurse and physical therapist CME/CE continuing education credits.
"We're thrilled to earn the esteemed endorsement from The ABWM Foundation," states WoundEducators.com spokesperson Laurie Swezey RN, BSN, CWOCN, CWS, FACCWS. "Going forward, we will continue to serve health care practitioners and provide a total source for wound care education."
To learn more about WoundEducators.com or to register for an online wound care certification course, visit http://www.woundeducators.com.
About WoundEducators.com, LLC
WoundEducators.com, LLC is an online educational company. Its mission is to promote the practice of evidence-based wound management by providing information related to the science behind wound healing, evidence-based wound management and current standards of practice. The company provides online training courses recommended by The ABWM Foundation to help health care practitioners become certified in wound care. The company also offers resources, articles, and up-to-date information related to the rapidly growing wound management field.
About The ABWM Foundation (ABWMF)
The ABWM Foundation (ABWMF) supports the work of the American Board of Wound Management (ABWM) for the advancement of wound care, the promotion of certification for providers of chronic and acute wounds, and the benefit of the public by developing and providing quality education and conducting sound research to support and promote wound care. For more information please visit http://www.abwmfoundation.org.