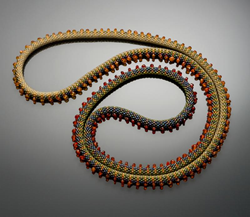 It starts one way and ends another and getting there involves a mathematical beauty, a series of numbers that fall into place. When the numbers are elegant, I know it will be beautiful. - Claire Kahn
Santa Fe, NM (PRWEB) July 17, 2014
Patina Gallery is proud to announce a Special Appearance by distinguished jewelry artist Claire Kahn, August 8th and 9th, from 11 am to 4 pm. Kahn's jewelry continues to evoke excitement and wonder and Patina is thrilled to be her exclusive gallery representative.
Kahn crochets with the smallest of hooks. Most of her pieces bear serpentine patterns so complex that it takes a full day to complete just a few inches.
She is fascinated by "the edge," the moment where change occurs, and it is evident in the patterns she creates. One segues to the next, leaving a path of subtle transitions.
"It starts one way and ends another and getting there involves a mathematical beauty, a series of numbers that fall into place. When the numbers are elegant, I know it will be beautiful." - Claire Kahn
Kahn's artistic career spans four decades. It reflects an astonishing range of work. From New York's Columbus Circle fountains to the interior treatments of Davies Symphony Hall in San Francisco, her achievements are impressive. Her passion for design is so boundless that she can work on a vast spectrum of media and scales.
Kahn will be unveiling the latest variations of her renowned jewelry during this upcoming appearance, August 8th and 9th, 11am to 4pm, at Patina.
High Resolution images available. Please send us a request.