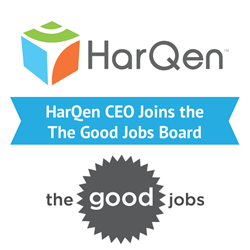 We are delighted to benefit from her experience leading HarQen.
Milwaukee, WI (PRWEB) July 22, 2014
Ane Ohm, HarQen's CEO, is joining the board of The Good Jobs (http://www.thegoodjobs.com), a Milwaukee startup dedicated to creating alignment between talented job seekers and companies by highlighting companies' cultures and employment brands. The move is a perfect fit as Ane Ohm's career boasts considerable experience and expertise in recruitment processes. Her work at HarQen has helped improve organizations' abilities to find and fast track the recruitment of top talent.
"I could not be more excited to support this amazing team," Ohm said. "The consistency between a company's brand image and the experience of its employees is crucial to attracting and retaining the right people. The work of The Good Jobs in highlighting this connection is truly invaluable."
"We are excited to have Ane Ohm join our board. Her background in recruiting will bring great perspective to our team as we move our company forward," said Anne Nimke, CEO and Founder of The Good Jobs. "We are delighted to benefit from her experience leading HarQen. Their work with technology to improve the hiring process for both the job seeker and recruiter helps to make the 'culture fit' we believe is so important."
For Ohm, this opportunity is a beneficial two-way street. "As much as I look forward to supporting The Good Jobs team, I am thrilled to learn from them. The work they are doing will give me insights into how we can continually improve our work at HarQen to make the hiring process a positive experience for both the company and the candidate."
About The Good Jobs:
The Good Jobs is a turnkey employment branding solution for attracting and retaining top talent who fit your company culture. (http://www.thegoodjobs.com)
About HarQen:
HarQen was founded in 2007 and powers the award-winning Voice Advantage digital interview platform. Voice Advantage empowers businesses to interview and screen talent for every level of the job market and from every corner of the globe, to review candidates ten times faster, and to cut screening costs up to 70%. Voice Advantage was named Human Resources Executive Top HR Product of the Year in 2010, Gartner 2013 Cool Vendor, and was recently recognized with a 2014 Recruitment Service Innovation Award (ReSIs). (harqen.com)