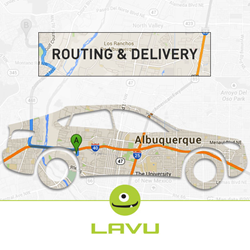 From order to destination, Lavu is an all-in-one solution built to help delivery businesses.
Albuquerque, NM (PRWEB) July 17, 2014
Lavu Inc. is pleased to announce a new delivery and routing extension for their iPad POS. This "smart" delivery dispatch provides the best route for each delivery and recommends the optimal sequence to maximize driver efficiency. Coupled with the Lavu Customer Database, this centralized solution will improve productivity for businesses that deliver.
The iPad terminal displays delivery orders and lets staff assign drivers to those orders. Drivers are provided with a map and directions to each delivery location via text message or printed receipt. The system approximates delivery times and selects the best path for the driver to take.
"Lavu will consider the options for the sequence of deliveries and give you the best one," said Corey Fiala, Lavu CTO and co-founder. "So if Lavu finds that delivering order B before order A is the most efficient route, it will recommend this in the display."
Multiple Order Routing groups two or more orders together, and Lavu maps out the most efficient route with turn by turn directions. Routes are calculated according to order times, destination, and driver availability. This maximizes efficiency while providing a timetable to ensure driver accountability.
"From order to destination, Lavu is an all-in-one solution built to help delivery businesses," said Alex Gibbs, VP of Product Development. "Order timetables factor in delivery preparation, route duration, and time at the door. This maximizes efficiency and driver accountability by managing orders down to the minute, which will improve the establishment's customer service."
The delivery and routing extension is available for all Lavu iPad POS accounts and costs $30 that is added to the monthly hosting fee. Lavu offers a free trial for clients to use the extension before purchase so they'll be able to really understand how this solution would benefit their business.
About Lavu
Founded in Albuquerque, NM, and operating worldwide, Lavu Inc. began as a solution to common point of sale problems and restaurant industry issues. Lavu Inc. offers Lavu iPad POS as a full-featured point of sale software solution at a fair price. Through cloud computing, wireless mobility, and multi-touch devices, Lavu iPad POS redefines the entire approach to restaurant business management. For more information, visit http://www.lavu.com.