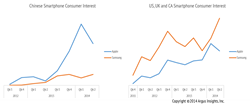 Globally, consumer interest in iPhone 5S fell more than other Apple handsets during CY 2014 Q2.
Los Gatos, CA (PRWEB) July 21, 2014
Argus Insights will share the details of their latest analysis of global smartphone consumer demand ahead of the Apple Q3 earnings announcement in a free webinar on 21 Jul 2014 at 1:00 PM PST.
Tracking consumer smartphone interest in global markets, Argus Insights has successfully beat Wall Street estimates of smartphone shipments for major brands almost every quarter for the past two years. With detailed coverage down to individual handsets for China, the US and Europe, Argus Insights is able to identify who is winning the hearts and minds of consumers in real time. Using data direct from consumers Argus Insights will also report on what is driving shifts in market leadership during Q2 and into Q3 of 2014, unpacking who stands to gain and lose across the entire mobile supply chain from mobile carriers to component suppliers.
More information will be available at a free webinar given by Dr. John Feland on how global smartphone consumers are responding to Apple, Samsung and other manufacturers. Results will drill into what is driving adoption, who stands to win or lose based on how Argus Insights predictive metrics indicate Apples Q4 might play out. Sign up information can be found at http://www.argusinsights.com/webinars/apple_q3_earnings_webinar.html.
Argus Insights metrics are based on assessing what products consumers enjoy rather than focusing on what was shipped, purchased or searched for in search engines. These metrics of consumer demand have proven more accurate than traditional forecast metrics, beating 2014 Wall Street estimates of iPhone and Galaxy handsets. Leveraging data from North America, Europe and China, Argus Insights produces a weekly update to global smartphone demand that is available for purchase by firms interested in getting ahead of consumer demand.