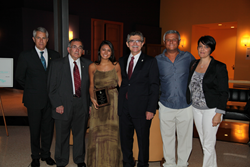 This is an evening for our young Italian-American scholarship winners to feel especially proud of their Italian heritage
(PRWEB) July 21, 2014
At a ceremony held at the Italian Embassy on June 19, 2014, the Lido Civic Club of Washington, DC awarded $50,000 in scholarships to seven outstanding Italian-American college students.
In announcing the awards, Francesco Isgro, President of the Lido Civic Club, said that "over the years we have honored prominent Italian Americans, such as Justices Alito and Scalia, Mario Andretti, Judge John Sirica, among many others. We have supported and continue to support wounded warriors, we have given financial aid to needy Italian immigrants, built monuments to Christopher Columbus and to Guglielmo Marconi. But this evening, we perform, what I consider to be among our most gratifying service -- we officially announce our 2014 scholarship winners and honor their accomplishments. This is an evening for our young Italian-American scholarship winners to feel especially proud of their Italian heritage, and for us in the Lido Civic Club to be thankful to be able to support our future -- and by that I mean the future of Italian-Americans in this country."
The awards were announced by Lorry Clavelli, Chairman of the Lido Civic Club Scholarship Committee. The students who received the scholarships were:

Anthony Bagileo – Anthony will be a sophomore at Howard County Community College. He plans to major in Criminal Justice. His paternal great grandparents came here from Avelino near Naples.
Martina Costagliola – Martina is a previous recipient and a first generation Italian-American woman who will be a sophomore at Swarthmore College. Her intended major is Engineering. Martina speaks fluent Italian and has spent many summers in her parents' town of Monte di Procida (Naples). Martina is the first and second recipient of Lido's Dominic F. Antonelli, Jr. Scholarship.
Natalie Eichner – Natalie, also a previous recipient. She will be a senior at the University of Virginia majoring in Kinesiology (the scientific study of human movement) and Biology. Her maternal great-grandparents came from Rome in the early 1900's.
Daniel Evans – Daniel, also a previous recipient, just completed his second year at Lycoming College where he has declared a major in Criminal Justice. Daniel wants to enter the field of Law Enforcement after graduation. His maternal grandparents came from Italy. His grandfather, upon arrival in the U.S., served in the US Army and the Air Force.
Amy Grudier – Amy will be a sophomore at Cedarville University in Ohio where she plans to major in Nursing. Her long-term goal is to be a missionary nurse in developing countries. Her great grandfather emigrated from Sicily in 1923 and her great-great-grandmother emigrated in 1885.
Francesca Orfila – Francesca will be a junior at either William and Mary or Catholic University and plans to study Archaeology and Anthropology. She speaks and reads Italian. Her family is from Comitini, Agrigento, Sicily.
Carlo St. Regis – Carlo will be a sophomore at the University of Maryland majoring in Engineering. His great grandparents all came through Ellis Island from Campobosso in southern Italy. Another wave of his family came also from Molise in the 1940's.
President Isgro thanked the sponsors who made the evening possible, including the principal sponsor, Joseph Scolaro of Santos, Postal & Company, Guido Adelfio of the Bethesda Travel Center, Jerry Truman of The Truman Cleary Group, Fr. Ezio Marchetto of Casa Italiana/Holy Rosary Church, and Daniel Stabile of Daniel Stabile Educational Consultants.
The Lido Civic Club also honored Prof Lucia Dalla Montà , Director of the Education Office at the Italian Embassy, who was awarded the Lido Civic Club Appreciation Award "in recognition of her contribution in promoting the study of the Italian language in the United States and in reinstating the AP Italian Language and Culture Exam," said President Isgro.
About the Lido Civic Club of Washington, DC
Founded in 1929, the Lido Civic Club provides financial assistance to Italian American students, supports the teaching of the Italian Language, supports the homeless, the elderly, orphans and victims of floods and earthquakes. The Lido Club works closely with the Aleethia Foundation to assist wounded warriors in their support for recently injured troops in their rehabilitation upon returning home.