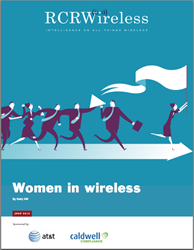 The statistics on women's participation show that the wireless industry still has a lot of work to do in attracting and retaining a more diverse workforce. - Kelly Hill, RCR Wireless News
Austin, TX (PRWEB) July 21, 2014
Women in the high-tech sector are making increasing in-roads in high-profile positions, but the majority of workers in the wireless industry continue to be men. RCR Wireless News' 'Women in Wireless' Feature Report explores the fact that half the population is frequently missing out on the career opportunities and innovation happening in the fast-growing, fast-changing wireless industry. The industry itself is unable to leverage the full value of women in wireless.
This report examines the experiences of individual women in the wireless industry as well as overall trends and barriers to more participation by women; notes some of the new and ongoing efforts by tech and wireless groups to attract and retain women in the industry; and outlines the federal rules governing contracts with women-owned businesses and other federal programs.
"I think one of the key points you hear from female leaders in the industry is that it hasn't changed much since 10 years ago, and it is starting to change now," said Vicky Sleight, senior director of membership for the GSMA and head of its Connected Women program.
Download this free report to learn more about:

The latest numbers on women's participation in the wireless industry
Individual stories and personal and professional experiences
Notable programs and initiatives for attracting and retaining women for workforce diversity
Federal guidelines for contract participation by women-owned and women-led business
Federal programs for counseling and supporting women entrepreneurs
Watch the complimentary editorial webinar featuring:

Kelly Hill, Technology Reporter, RCR Wireless News
Carlton Hill, Vice President, Device Operations and Developer Services, AT&T
Karen Caldwell, Founder and CEO, Caldwell Compliance
Blair Bode, Executive Director of Industry Relations, Women's Wireless Leadership Forum
"Women in the industry consistently said that they see slow but positive change across the wireless ecosystem, both in the number of women they work with, and the power and influence of women executives," said RCR Wireless News Technology Reporter Kelly Hill. "Still, the statistics on women's participation show that the wireless industry still has a lot of work to do in attracting and retaining a more diverse workforce."
RCR spoke with women across the industry, from national carriers to small businesses, to gain insight into both individual experiences and industry trends shaping the participation of women in the wireless industry. The report also outlines revenue opportunities for women-owned businesses through federal contracting programs, and the U.S. Small Business Administration's national network of business centers and volunteers that are available to support women who are considering starting a business.
Click here to download this free report from RCR Wireless News.
About RCR Wireless News
Since 1982, RCR Wireless News has been providing wireless and mobile industry news, insights, and analysis to industry and enterprise professionals, decision makers, policy makers, analysts and investors. Our mission is to connect, globally and locally, mobile technology professionals and companies online, in person, and now on video. Our dedication to editorial excellence coupled with one of the industry's most comprehensive industry databases and digital networks leads readers and advertisers to consistently choose RCR Wireless News over other industry publications. http://www.rcrwireless.com