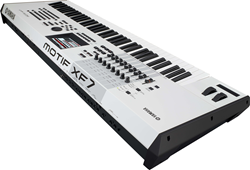 "Summer NAMM is a keystone event that allows us to spend more quality time with dealers, artists, media representatives and the general public," said Tom Sumner, senior vice president, Yamaha Corporation of America.
NASHVILLE (PRWEB) July 17, 2014
Yamaha, the world's largest musical instrument manufacturing company, will showcase a full display of products at Summer NAMM 2014 in Booth 644 at the Music City Center in Nashville from July 17-19.
"Summer NAMM is a keystone event that allows us to spend more quality time with dealers, artists, media representatives and the general public," said Tom Sumner, senior vice president, Yamaha Corporation of America.
Among the new items to be displayed, Yamaha will showcase the sleek new Motif XF in white to help celebrate the company's 40th anniversary manufacturing music synthesizers. Yamaha introduced its first synthesizer, the SY-1, in 1974. Yamaha followed the introduction of the CS-80 polyphonic synthesizer in 1976 with the historically significant DX7 in 1983, the first commercially successful electronic keyboard, which helped shape the sound of 1980s music. The Motif has been an industry leader since its introduction in 2001. Yamaha has pioneered several innovative synthesizer technologies in the last four decades, including Frequency Modulation and physical modeling to simulate the sounds of various instruments.
Yamaha has long offered online content to complement its hardware capabilities. For the first time, Motif and MOXF music production synthesizer sound libraries are available at YamahaMusicSoft.com. Customers will appreciate being able to directly download content from secure Yamaha-operated sites. Other benefits include the opportunity to access sales and technical support directly from Yamaha.
The company also is unveiling two electronic drum initiatives: DTX-Live Sound Solutions program and the new electronic drum website, YamahaDTX.com. An industry first, Live Sound Solutions takes the guesswork out of proper set ups for electronic and hybrid drummers, pairing super-sensitive loudspeakers—Yamaha DXR speakers and DXS subwoofers, along with portable PA systems STAGEPAS 400i and STAGEPAS 600i—with electronic drums and electronic drum components. YamahaDTX.com provides a valuable resource for electronic and hybrid drummers, offering product information, educational videos and updated artist news and tips that showcase DTX electronic drums in real life applications.
Other exciting products include L Series acoustic guitars, which offer incredible value and feature Acoustic Resonance Enhancement, a wood treatment process that makes new guitars sound old with a proprietary, environmentally friendly process that pre-ages wood by changing its molecular structure. MG mixers provide a compact and affordable solution for recording and live sound settings. The ten models in the series include varying input/output and processing capabilities, and all come packaged in a rugged body with Class-A D-Pre microphone amps. The award-winning Absolute Hybrid Maple acoustic drum kits have received glowing reviews in the drum press for their sound quality and innovative construction, which sandwiches one ply of soft Wenge wood between layers of harder Maple for a rich tone.
For more information, please visit Yamaha at Summer NAMM 201, Booth 644, Music City Center, Nashville; or visit http://4wrd.it/yamahasummernamm14.
About Yamaha
Yamaha Corporation of America (YCA) is one of the largest subsidiaries of Yamaha Corporation, Japan and offers a full line of award-winning musical instruments, sound reinforcement and home entertainment products to the U.S. market. Products include: Yamaha acoustic, digital and hybrid pianos, portable keyboards, guitars, acoustic and electronic drums, band and orchestral instruments, marching percussion products, synthesizers, professional digital and analog audio equipment, Steinberg recording products and Nexo commercial audio products, as well as AV receivers, amplifiers, Blu-ray/CD players, iPod docking systems, home-theater-in-a-box systems and its exclusive line of Digital Sound Projectors. YCA markets innovative, finely crafted technology and entertainment products and musical instruments targeted to the hobbyist, education, worship, professional music, installation and consumer markets.