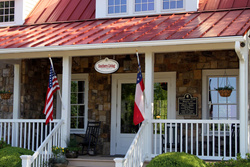 Southern Living Inspired Community
Atlanta, Georgia (PRWEB) July 18, 2014
Currahee Club, a scenic, gated Georgia mountain community just a few minutes east of Toccoa in northeastern Georgia and a founding member of Southern Living Inspired Communities, is pleased to announce the Grand Opening of the newest model of Southern Living Inspired Homes. This elegant yet very livable four-bedroom, four-bath home is the masterwork of a design-build dream team – Kokopelli Builders, Simmons Fouts Fichtel Architecture & Design (SFFAD) and Traci Rhodes Interiors. New home buyers seeking a golf and mountain community with resort-style ambiance are invited to visit the Lake Hartwell real estate development this summer to tour the first 2014 Southern Living Inspired Home, and taste the Currahee Club lifestyle for themselves.
"We have had the pleasure to watch this project come alive over the last six months, and we cannot wait to see the reaction as people experience it for the first time, commented Andrew Ward, Managing Director at Currahee Club. He continued, "Southern Living Inspired Communities are those that epitomize southern lifestyles with sprawling architectural plans, wonderful food, and enchanting gardens, as found throughout Currahee Club. When we approached Hugh Pitts of Kokopelli Builders about building the first Southern Living Inspired Home in 2014, we knew we were dealing with a true building professional. The fine craftsmanship and attention to detail evident when touring the home speaks volumes as to why Hugh and his company were added to our Currahee Builder panel."
"I take pride in constructing a house that feels like home the moment you walk through the door, says Hugh Pitts, owner of Kokopelli Builders. "For the 2014 Southern Living Inspired Home, this feeling is created by having an open floor plan, the use of lots of natural lighting and architectural elements such as the exposed cedar beams that we used in the great room. The wide plank hickory flooring and stone fireplace create a relaxed living space for enjoying this beautiful mountain retreat while the screen porch brings the outside in."
Just one look at this charming 4,000 square foot home, with its country motif, metal roof, and detached two-car plus golf cart garage, and those seeking a place to call home in a gated Georgia mountain community will want to see more of the Currahee Club village neighborhoods, with architectural styles reflecting Craftsman, English Cottage, and Mountain Rustic themes. The Currahee Club lifestyle is undeniably one of southern taste and hospitality, cradled in the natural beauty of streams, mountains and lakes.
This 1,200 acre Lake Hartwell real estate development is an award winning private golf community with an impressive list of amenities, beginning with the 18-hole Jim Fazio designed championship course where the view from the Currahee Club Signature Hole overlooking Lake Hartwell and the Blue Ridge Mountains is nothing short of breathtaking. Residents also enjoy a 48,000 square foot golf clubhouse with indoor and outdoor dining, the new Currahee Club Amenity Campus with resort-style swimming pool, two tennis courts and fitness center, children's playground and ball courts, and the Currahee Club Lake Park and covered community boat docks, which provides access to the 52,000-acre Lake Hartwell.
To date, approximately 40 of the 700 planned Currahee Club homes have been built in the Lake Hartwell real estate development. Homes for sale begin in the mid $400k's, or build your Currahee Club dream home on home sites starting in the mid $100k's. Now through August 31, home buyers are invited to tour the beautiful Southern Living Inspired Home, as well as the Design Center located next to the Currahee Welcome Center, to collect inspired ideas for building their very own northern Georgia mountain retreat at Currahee Club. After viewing the new homes, visit the clubhouse for lunch and tour the entire development. Tour the 2013 Southern Living Showcase Home, too, built by Dillard-Jones Builders LLC. Currahee Club approved builders include Dillard-Jones Builders LLC, Currahee Home Builders, Evergreen Homes, and Kokopelli Builders.
To visit this charming gated Georgia mountain community, call Currahee Club directly at 888-560-2582 to schedule a tour.
About Real Estate Scorecard:
Real Estate Scorecard writes unbiased real estate reviews providing in-depth information about popular gated communities in Florida, Georgia, North Carolina, South Carolina, and Tennessee, all in an effort to help people discover where to retire in the Southeast.
Website: http://realestatescorecard.com