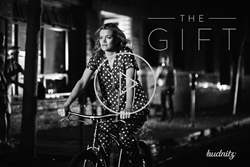 This powerful film about freedom continues our commitment to making great works of art that represent the ethos of our line of high-end city bicycles.
Los Angeles, CA and Burlington, VT (PRWEB) July 18, 2014
Premium bicycle brand Budnitz Bicycles officially released The Gift today, a new short film by award-winning filmmaker Russ Lamoureux and produced in partnership with Partizan Entertainment.
The Gift is set within the mind of a man as he watches the woman he loves transform his gifts into freedom. Starring the Budnitz Model No.3 city bicycle, a beautiful woman, a pigeon, and a bucket of water.
"This powerful film about freedom continues our commitment to making great works of art that represent the ethos of our line of high-end city bicycles," said Budnitz Bicycles founder Paul Budnitz.
Shot entirely in black & white, at night, and using high-speed cameras, The Gift features a cast of characters whose elegant, intertwined movements recall a ballet.
"We decided to tell a story about relationship, something timeless with the feeling of a New Yorker short story," says director Russ Lamoureux. "We end up at the final moment — an ending that is also a beginning."
Often compared to the Aston-Martin of bicycles, Budnitz creates lightweight city bikes built out of titanium and steel that are designed to last a lifetime. Starting prices range from $2,495 through $8,000 for top-end models.
"Budnitz Bicycles was created with the idea that a simple, well-designed bicycle can perform perfectly, last a lifetime, and look as beautiful as a classic car," says Budnitz. "The Gift is the natural extension of what we represent as a brand."
Budnitz is a well-known as an entrepreneur and artist, the founder of art-toy company Kidrobot, the social network Ello, and has over a dozen designs in the collection of MoMA in New York City.
Budnitz Bicycles produces one major art film each year. Their complete series of short films can be viewed at budnitzbicycles.com/video.
Budnitz Bicycles are sold exclusively online at budnitzbicycles.com.
ABOUT BUDNITZ BICYCLES
Budnitz Bicycles creates the fastest, most beautiful, and most elegant urban bicycles in the world. Combining advance design and top-end components with founder Paul Budnitz' eye for detail, Budnitz Bicycles makes striking, lightning-fast titanium & steel bicycles that are built to last a lifetime. Budnitz Bicycles was founded in 2011 and is based in Burlington, Vermont.
ABOUT PAUL BUDNITZ
Paul Budnitz is well known as the founder of Kidrobot, the world's premier creator of art toys, fashion apparel & accessories. Budnitz' obsession with creating the perfect urban bicycles lead him to found Budnitz Bicycles in 2011.
Budnitz art directed virtually every Kidrobot & Budnitz Bicycles product; created Dunny and many other signature platform toys; and has designed retail stores, nightclubs, apparel, and bicycles. Over a dozen Budnitz designs are part of the collection of the Museum of Modern Art in New York City. He has worked with designers from Shepard Fairey to Frank Kozik to Marc Jacobs, and brands including Nike, Hermes, Volkswagen, and many others.
In 2010, Budnitz authored I AM PLASTIC, TOO, his 2nd book on designer toys, and The Hole in the Middle, a children's book published by Disney/Hyperion. Budnitz is the director of two award winning feature films. He recently co-created and launched the artist-based social network Ello with partners Berger & Fohr and Modeset.
Budnitz speaks on innovation & creativity worldwide, and blogs at paulbudnitz.com. He lives in Burlington, VT and New York City and owns 50 pairs of size 13 sneakers.
ABOUT DIRECTOR RUSS LAMOUREUX
An Emmy-winning director, Lamoureux has directed films and helmed commercials for some of the world's most respected agencies. His boxing-themed photo series Wild Cards was short-listed for the 2011 IPA/Lucie awards, and he is a frequent contributor to the cycling and culture magazine Peloton, as well as the UK magazine and website Spashion.
ABOUT PARTIZAN ENTERTAINMENT
Since its launch in 1991, Partizan has become one of the world's leading producers of content - from music videos and commercials to documentaries, feature films, animation, digital and branded content — with over a billion views online so far and counting. The company has offices in London, Paris, New York, Los Angeles, Berlin and Stockholm.
The Darkroom@Partizan is a content label dedicated to producing bespoke films for some of the most innovative brands in the world.
partizan.com