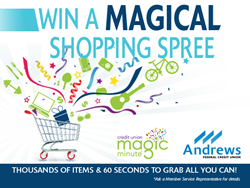 Suitland, Maryland (PRWEB) July 21, 2014
Andrews Federal Credit Union announced today a special sweepstakes event in which its members can qualify to win the shopping experience of a lifetime. Simply by using their Andrews Federal VISA® Platinum Rewards or GlobeTrek VISA® Rewards credit cards to make purchases between August 4 through October 26, 2014, members will be automatically entered in a drawing for a chance to win a one-minute "dash and grab" with an oversized shopping cart in a warehouse packed with high-end merchandise, such as laptops, tablets, flat-screen TVs and appliances.
The event, called the Credit Union Magic MinuteTM, is open to nearly 700 credit unions across the country. Members of participating credit unions must first register with the credit union to participate and then use their credit or debit cards in three transactions per week to have their names entered into the sweepstakes drawings. Each of the 6 credit union members selected will win an all-expense-paid trip for two to Chicago and a place at the starting line of the Magic Minute Dash on December 4.
"We wanted to give our loyal members the opportunity to experience something so incredible and exhilarating, they'll remember it for the rest of their lives," said Oma George, Chief Retail Officer of Andrews Federal Credit Union. "We are hoping one of the 6 winners chosen will be an Andrews Federal member."
Andrews Federal Credit Union members earn loyalty rewards points by simply using their credit and debit cards for everyday purchases. The points can be redeemed for merchandise, travel and in some cases, cash rebates. Some types of purchases may even qualify for double or triple points. The Magic Minute is a promotion that recognizes and celebrates the unique loyalty bond that exists between members and their credit unions. Visit http://www.andrewsfcu.org/magicminute for details on the Magic Minute and how you can become a member of the Andrews Federal family.
About Andrews Federal Credit Union
Andrews Federal Credit Union was founded in 1948 to serve the needs of military and civilian personnel by providing a vast array of financial products and services. With over $1 billion in assets, Andrews Federal has grown to serve more than 100,000 members in the District of Columbia, Joint Base Andrews (MD), Joint Base McGuire-Dix-Lakehurst (NJ), and military installations in central Germany, Belgium, and the Netherlands. In addition, the Credit Union serves as a financial partner with many select employee groups in Maryland, the District of Columbia, and New Jersey.
To learn more about Andrews Federal Credit Union and its community involvement, or to become a member, call 800.487.5500 or visit http://www.andrewsfcu.org.