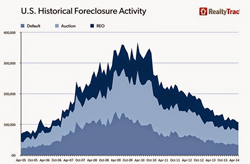 Ten states reached their lowest levels of foreclosure activity since the housing crash in 2006
Chicago, IL (PRWEB) July 17, 2014
CF Funding is happy to share that foreclosure activity has been reported at its lowest levels since before the housing crash. In the first half of 2014 (January through June) there were 613,874 foreclosure filings, which is a 23 percent decrease from the first half of last year. As CF Funding mentioned earlier this month on their blog, the Obama administration is taking steps to continue to decrease foreclosures, and the lender expects that more improvement is to come in the next few years as the economy improves.
The Midyear 2014 U.S. Foreclosure Market Report, released this week by RealtyTrac, revealed that one in 214 homes in the U.S. reported a foreclosure in the first six months of this year (about 0.47 percent). Foreclosure activity for June totaled 107,194 properties, which is down 2 percent from May 2014 and down 16 percent from a year ago. Ten states reached their lowest levels of foreclosure activity since the housing crash in 2006, including Texas, Georgia, Colorado, Tennessee, Arizona, and Nevada. CF Funding is licensed in Texas, Florida, and Colorado, and the lender was happy to see such high foreclosure improvement in those states.
Only nine states saw an increase in foreclosure activity in the first half of 2014 in comparison to the first half of 2013. Those states include New Jersey (up 54 percent), Maryland (up 18 percent), and Iowa (up 10 percent).
It may be disheartening to see that Illinois is ranked at the country's third highest foreclosure rate in the first half of 2014, at one in every 123 housing units. However, Illinois has a longer foreclosure filing process than many other states in the country. This means that although foreclosures are recovering in Illinois, the statistics reporting a decrease in filings may lag behind other states by a few months. CF Funding is happy to share that Illinois foreclosure activity did decrease 16 percent in comparison to the second half of 2013, and 32 percent from a year ago. The Chicago metro area also saw a 30 percent decrease in foreclosure activity in the first half of 2014 compared to a year ago.
Those who are in danger of foreclosure should contact CF Funding today to take advantage of free credit repair services with a refinance. The lender has assisted thousands of homeowners to regain positive equity in their homes. Call 888-344-4080 or visit http://www.cffunding.com today.