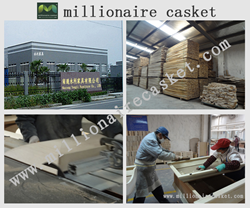 (PRWEB) July 19, 2014
Recently, MillionaireCasket.com, a professional casket supplier, has unveiled its new selection of walnut caskets. Also, the firm has launched a special offer for all these wood caskets. It offers deeply discounted rates for all the new products.
MillionaireCasket.com has the rich experience in the industry of the caskets, so it can always offer the best items. The company is offering many high quality caskets for all the international customers. The new walnut caskets will certainly help the company to expand its online market.
The CEO of the company said, "We know that product quality is very important for a wholesaler. We deploy strict quality inspection system every day, because we want to make sure that every casket is of good quality. Besides, many new quality caskets will be added to our website soon. With a commitment to product quality and customer satisfaction, we have helped many customers the tackle related problems."
In addition, the company hopes to be an excellent funeral supplier. It has invested a lot of money in the latest technology in casket making. Besides great wood caskets, it also provides church trucks, stretchers, urns, embalming tables, church furniture, keepsakes and other related products.
About MillionaireCasket.com
MillionaireCasket.com is a leading casket company that focuses on the business of casket wholesale. This company offers an exquisitely crafted line of all kinds of metal caskets, solid wood caskets, veneer caskets, cremation caskets, rental caskets, orthodox caskets, infant or over-sized caskets and European style coffins. The standard quality control policy is strictly applied here, and a third party quality assurance is also available.
More information about the company's high quality items can be found at http://www.millionairecasket.com/72-walnut-caskets.