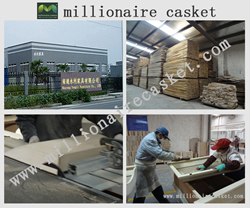 (PRWEB) July 20, 2014
When it comes to cost-effective caskets, China manufacturer MillionaireCasket.com's items are great items. Recently, the company has added a new collection of cedar caskets to its online catalogue. Moreover, the company is now offering big discounts on these items.
The company's marketing specialist states happily, "We are glad to announce the new range of cedar caskets. We want to offer a one stop purchasing process for worldwide customers. Now, all customers can enjoy an efficient shopping experience on our website. Those who have any questions about our new caskets are welcome to talk with us."
For additional information, MillionaireCasket.com is famous for its high quality caskets, great customer service, speedy delivery as well as competitive prices. As a professional casket manufacturer, the company offers flexibility in terms of material species, finish and colour, interior fabric and styles. The wood caskets from Millionaire Casket are absolutely 100 percent manufactured with top quality materials; a lot of them are selling well in the current market.
The company seeks to benefit the distributors from around the world. It aims to be an outstanding funeral supplier and offer a wide range of top quality products (like metal caskets, cremation caskets, solid wood caskets, veneer caskets) for new and old customers.
About MillionaireCasket.com
MillionaireCasket.com is a leading casket company that focuses on the business of casket wholesale. This company offers an exquisitely crafted line of all kinds of metal caskets, solid wood caskets, veneer caskets, cremation caskets, rental caskets, orthodox caskets, infant or over-sized caskets and European style coffins. The standard quality control policy is strictly applied here, and a third party quality assurance is also available.
More information can be found at http://www.millionairecasket.com/73-cedar-caskets.