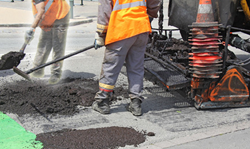 Jobsite safety is paramount in the construction industry… Working with Construction Angels is one way that we can get the word out about its importance, and support those who have lost loved ones in work-related accidents.
Fort Lauderdale, FL (PRWEB) July 20, 2014
Construction Connection has teamed up with the nonprofit Construction Angels, Inc. to advance jobsite safety throughout the construction industry. The industry-specific construction networking and hiring website, ConstructionConneciton.com, has made it its mission to build a stronger construction community. They are going beyond the service of providing tools and training resources, and are now helping to advocate for the nonprofit that supports families hit hardest by construction job fatalities.
Construction Angels, Inc. was founded by a series of donations made to the family of a construction worker whose life was claimed on-site, just before Christmas of 2009. The affected family received all the money that had been designated for the company's Christmas party. The next act of kindness came from a construction association that held a raffle for the family. Finally, Construction Angels says that their nonprofit was founded when the fallen workers' company owner discovered that management wanted to match all the funds raised by the association's raffle.
Since that first matching raffle, Construction Angels has spread across the US with different chapters all focusing on fundraising. Money raised goes to the families of workers who sadly lose their life on the construction jobsite, while doing on-task construction work. The family can submit a report to Construction Angels giving information and evidence verifying their loved one's status. These funds help the families missing their loved ones through especially trying times.
The fundraisers responsible for earning the money that goes to affected families can vary in nature. They can be golf tournaments, matching drives, or black tie events, and in a way, the many possibilities emphasize the diversity of individuals responsible for workplace safety in the construction industry. All events are all motivated by the idea of "one of our own" which was the mantra repeated back in 2009, when the first fundraiser was held. "One of our own" spotlights the sense of responsibility and duty that this community seeks to honor with its fundraising.
As Construction Connection joins the cause, the nonprofit is gaining a higher degree of visibility and support than they would have otherwise. ConstructionConnection.com is the go-to website for anyone on the construction industry, with over 56,000 registered construction industry professionals and construction companies on its website. They advocate for this cause on their company blog with frequent updates, invitations to fundraisers, and memorial blog posts. They also give space for the nonprofit to raise awareness in their magazine. Raising awareness is key to the success of Construction Angels, and Construction Connection is helping mightily with that need.
"Jobsite safety is paramount in the construction industry," says Construction Connection Co-Founder Suzanne Breistol. "Working with Construction Angels is one way that we can get the word out about its importance, and support those who have lost loved ones in work-related accidents."
The construction networking website has long focused on workplace safety. Its toolbox talks, accessible for anyone who visits the website, free of cost, has a significant theme of workplace safety. The toolbox talks tackle the needs and worries of people working construction jobs from many different angles, with recent articles as abstract as "The Zen of Safety" and other articles as concrete as "Understanding Electricity And Breaker Panels."
The website also offers tools for purchase that can advance safety with training, enhancing skill sets and competence. They have partnered with IBM to offer many different competence-building services, as well as team-oriented tools to facilitate group dynamics and effective teamwork.
Construction Connection also supports the industry with unrivaled construction job-matching tools. As it puts more people to work with effective construction networking, job matching, and skill-building, it has never left people at work in construction to face risk alone; it helps them in every aspect of their job, and it can now help to support their families, too.
About Construction Connection
ConstructionConnection.com was created out of a need for a more effective and streamlined way for construction industry professionals to get matched with the right industry jobs and with the right industry opportunities. The founders of Construction Connection, both industry professionals themselves, listened to both company and individuals' dissatisfaction with the traditional job boards, the paid resume blasts, the overpriced resume services and overall lack of sympathy toward the individual candidate. They also listened to the dissatisfaction from companies who post jobs only to get many irrelevant results or have to purchase high priced ads to showcase their company. Construction Connection is a patent-pending, one-of-a- kind profile creating / match-making system. The system delivers effective results. Construction Connection saves time, money and aggravation by matching people to people, people to companies, companies to people, and company to company.