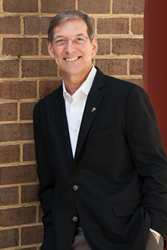 Arlington, VA (PRWEB) July 21, 2014
Residents looking for a dentist near Arlington, VA who have lost multiple adult teeth now have an option to replace them beyond traditional dentures or implants thanks to Dr. Russell W. Phillips' use of the All-on-4™ solution that provides a whole new set of teeth in less time and with less cost than before. This procedure places a fixed or removable denture on top of only four titanium implant posts and yields an exceptionally stable, long lasting, comfortable, and aesthetically pleasing answer to missing teeth.
After the loss of multiple teeth, the bone throughout the jaw can begin to erode, making the placement of implants difficult. For patients that lack sufficient bone density consistently in their mouths, this can reduce their options for filling gaps with standard implants. Thanks to the All-on-4™ treatment, Dr. Phillips can position four posts in the locations with the most bone density so that patients seeking a dentist near Arlington, VA can then have the denture secured to those foundations.
In only a single visit, a patient can have a completely new appearance, as a temporary prosthesis can be placed onto the four posts in that same appointment. After the bone and implants have fused together, the temporary denture is replaced with a fixed or removable appliance. This provides an exceptionally long lasting, stable, and comfortable way of addressing the challenges of missing teeth. All-on-4™ takes the best elements from standard implants and dentures to offer patients a faster and less costly solution. In addition, this option is more durable and functional than dentures alone because of the rooting into the jaw bone that is provided by the posts.
If you or someone in your family has suffered with the effects of multiple lost teeth, contact Dr. Phillips' office today to schedule an appointment. Dr. Phillips is a dentist near Arlington, VA that will take the time to answer your questions and is committed to providing you the best of today's dental advances with your comfort and budget in mind.
About The Doctor
Russell W. Phillips, DMD is a general practitioner with advanced training offering personalized, comprehensive dental care for Washington D.C. gum disease patients since 1984. Dr. Phillips graduated from Penn State University and earned his D.M.D. dental degree from the University of Pennsylvania with honors. He later returned to the University of Pennsylvania for the 3 year Periodontal Prosthesis and Periodontics program. He continues his education and remains involved in many dental organizations. Dr. Phillips is part of one percent of dental professionals providing the LANAP® FDA cleared laser procedure for gum disease treatment. To learn more about Russell W. Phillips, DMD and his dental services, visit his website at http://www.russellphillipsdmd.com and call (202) 350-4581.