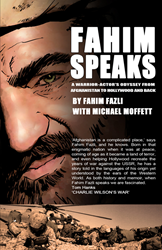 When Fahim Fazli speaks, we are fascinated.Tom Hanks, Charlie Wilson's War
Concord, New Hampshire (PRWEB) July 23, 2014
Join Gibson's Bookstore as we welcome Fahim Fazli, noted Hollywood actor and acclaimed Afghan-American interpreter for the United States Marine Corps, and co-author Michael Moffett (LtCol, USMC, ret) for a presentation and book signing. Fazli's book, Fahim Speaks: A Warrior-Actor's Odyssey from Afghanistan to Hollywood and Back, is published by Warriors Publishing Group ($14.95, ISBN-13: 9780982167076, availability: On Our Shelves Now).
The book chronicles Fazli's life journey, including his escape from Communist-dominated Afghanistan in 1983, his years as a refugee, coming to America, becoming a Hollywood actor, and then returning to Afghanistan with the Marines.
Published by Warriors Publishing Group, Fahim Speaks won a Gold Medal from the Military Writers Association of America. Fahim Speaks was also nominated for "Book-of-the-Year" with the Oral History Association of America and for the prestigious General Wallace M. Greene, Jr. Award for distinguished non-fiction dealing with U.S. Marines.
The book features a cover endorsement by Tom Hanks, who worked with Fahim Fazli on the movie CHARLIE WILSON'S WAR. The two authors met in the Marine Corps' area of operations in volatile Helmand Province, Afghanistan, in 2010. A reserve infantry officer and professor at NHTI-Concord, Moffett was in-country as a field historian for Marine Corps University. Fazli was so effective as a translator, bringing together Americans and Afghans, that the Taliban put a price on his head.
Dedicated to his mother and to all the women of the world, Fahim Speaks is an adventure story, a love story, a Hollywood story, and a war story. It's an inspiring account of perseverance and patriotism—and of the special love that one man developed for his adopted country—and for the United States Marine Corps.
Fazli's Hollywood experiences are extensive and include two of the IRONMAN movies as well as ARGO, which won Academy Award for Best Picture in 2013. He just returned from Morocco, where he had a role in the filming of ROCK THE KASBAH with Bruce Willis, Bill Murray, Zooey Deschanel, and Kate Hudson. Fazli can be seen in FORT BLISS with Michelle Monaghan, due out in September, and in Clint Eastwood's AMERICAN SNIPER with Brad Cooper, which is tentatively slated for a November release.
Warriors Publishing Group is dedicated to connecting readers to the best in military fiction and nonfiction. Contact us for review copies and interview requests.