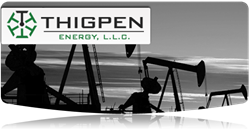 Branding is an investment, said Thigpen. It's about building relationships, telling your story, staying fresh and new.
Houston, Texas (PRWEB) July 23, 2014
ITVibes, Inc., a web design and marketing company in Houston, Texas, designed Thigpen Energy's new website. They also provided the energy company with online marketing strategies, according to Sam Thigpen, CEO and Founder of Thigpen Energy.
"I knew when I first started the company, I would have to take the corporate approach to build our brand and construct our marketing plan," explained Thigpen.
Thigpen was first introduced to ITVibes at one of their social media marketing seminars, according to Thigpen. He attended the seminar and met the presenter, Siva Yenneti, President and Co-Founder of ITVibes. "What he said at the seminar made a lot of sense to me," said Thigpen.
One of the items Yenneti covers at his seminar is five ways to use social media for business: audience building, local branding, building relationships, industry expertise, and lead generation, according to Yenneti.
"I'm still using the marketing techniques he taught me," explained Thigpen. "For B2B companies, social media is not a sales tool, it's about increasing your brand awareness," he continued. "It gives you an interactive presence on the web. It shows your followers, customers, and potential customers what jobs you've been doing."
According to Thigpen, they currently have over 2100 likes on Facebook, more than 1200 followers on Twitter, and a little over 300 followers on LinkedIn. They also blog on a regular basis and use press releases to get the word out, Thigpen said.
"Thigpen is a great example of how social media marketing can work in the business world," said Yenneti. "He's not just saying it, he's actually doing it. He's a rock star!"
As Thigpen explained, you have to put in the time and effort because it doesn't just happen overnight. "You have to consistently blog and post on social media each week," he said.
But, if you do the work it does pay off, according to Thigpen. "I have numerous examples of people recognizing our name because they follow us online. Even my competitors in other cities know and recognize us," he continued.
"There is no doubt that our marketing plan, the success of our website designed by ITVibes, and our dedication to social media has played a big part in our company's success," Thigpen explained.
"Branding is an investment," said Thigpen. "It's about building relationships, telling your story, staying fresh and new."
"Thigpen Energy is a leader in high horsepower natural gas fueling solutions in North America," Thigpen explained. Thigpen Energy provides onsite fueling solutions for drilling, pressure pumping and other industrial applications with LNG, CNG and field gas. The ability to also provide LNG supply, logistics and diesel engine conversion, makes them the most comprehensive offering in the natural gas fueling market today, according to Thigpen.
About ITVibes
ITVibes, Inc. is a Houston web design and online marketing company located in The Woodlands, Texas. They offer services in website design, mobile sites, social media marketing, business apps, search engine optimization, and custom programming.
They create integrated websites as marketing solutions with mobile strategy, social media branding and local search engine optimization with high lead generation and conversion rates. The website marketing packages are created to directly increase inbound leads, sales, loyal customers and bottom line. Their custom business apps reduce operational costs, increase team productivity and boost ROI.
For more information, visit their website: http://www.itvibes.com or call them at 281-826-4880.