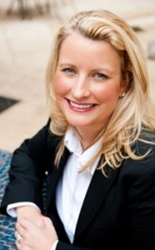 Des Moines, WA (PRWEB) July 23, 2014
Wesley Homes Retirement Communities and Home Health Services welcomes Jennifer Lottis as the new Senior Director of Community and Campus Relations for Wesley Homes Des Moines.
As senior director, Lottis will primarily be responsible for occupancy in Wesley Homes' independent and assisted living residences, which consists of three apartment buildings, multiple independent living residences and assisted living apartments on a 45-acre campus.
Lottis comes to Wesley Homes with a strong background in human resources and eldercare consulting. After seeing thousands of different senior housing communities as a regional director, she changed careers to senior living because she wanted to make the transition for seniors easier.
"Seeing seniors thrive is a reward," said Lottis. "I really love assisting them in their search for the right community and seeing the outcome of happy families. I look forward to getting to know the residents at Wesley Homes. This is their home. I want to hear from them and partner with them to bring more great residents here."
Having always wanted to be a part of a not-for-profit organization, Lottis found Wesley Homes' longevity appealing. "They have a great reputation and are poised for growth. They have a great mission of caring for older adults. Plus, this position gives me the opportunity to work with Patrick O'Neill. I'm very impressed with Patrick, and I have a good feeling about Wesley Homes."
O'Neill, campus administrator and former chairman of LeadingAge Washington, is equally impressed with Lottis, particularly "with Jennifer's professional knowledge of the eldercare industry. Her enthusiasm and wealth of ideas will be a great asset to Wesley Homes. She was at one community with 60 percent occupancy and filled it to the point that they now have a waiting list. That's demonstrated success."
Lottis is a Seattle native and currently resides in Seattle.
Established in 1944 and affiliated with the Pacific Northwest Conference of the United Methodist Church, Wesley Homes operates two retirement communities and a home health agency. Wesley Homes Des Moines is a continuing care retirement community offering Cottage homes, apartments, assisted living and skilled nursing. Wesley Homes Lea Hill in Auburn offers Village Homes, apartments and memory care. Wesley Homes Community Health Services provides home health services to clients throughout the Puget Sound region.
# # #
WESLEY HOMES
Retirement Communities │ Home Health Services │ Foundation
815 S. 216th Street • Des Moines, WA 98198 • (206) 824-5000