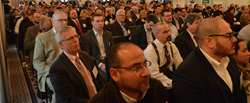 "The NYC Energy Marketing Conference was awesome! Thanks go to Advanced Energy Capital and TrustedTPV for putting on a magnificent event for the competitive energy industry"
New York, NY (PRWEB) July 24, 2014
40 leading Competitive Energy Industry Leaders are planning to speak on five interactive panels at the upcoming Energy Marketing Conference in NYC on September 8th 2014 at the Affinia Manhattan Hotel. With about six weeks to go, the NYC Energy Marketing Conference has hundreds of attendees registered and is projected to sell out soon. The February conference also sold out with about 400 industry professionals in attendance who traveled to New York from all parts of the country, Canada as well as Europe.
The September conference is stacked with 40 industry leaders that will be speaking on five interactive panels. Chiefs of Retail Energy Providers who are participating include: Jorge Lopez, CEO of Con Ed Solutions, Peter Duprey of Gulf Energy, Jim Steffes, former President of NRG Northeast Retail Energy, Geoff Rochwarger, CEO of IDT Energy, Michael Kagan, former Sr. VP of Constellation Energy, Deryl Brown, CEO of North American Power, Michael Fallquist, CEO of Crius Energy, Tim LoCascio, Director of Liberty Power, Helen King, Director of HOP Energy, Tony Menchaca, CMO of Verde Energy, Abe Grohman, former CEO and Founder of Hudson Energy, and Glenn Payne, CEO of Switch Energy.
The September 8th conference is shaping up to be even more successful and informative as the February conference.
In describing the focus of the event, founder Jack Doueck said, "This conference isn't just about competitive energy. It is about how cross-selling and bundling all types of additional products and services improves the business. Examples include renewable energy, energy efficiency surveys, retrofits, smart meters, home warranties, solar, carbon monoxide detectors, demand response, fuel cells, roadside assistance programs, identity protection, alarm systems, online backups, tech support and others. If you're an energy marketer, then you're already thinking about how to bundle services and grow revenue from existing customers."
Bundling services with multiple products will also help retailers lengthen the customers' life-cycle. Every energy company in the business would like to reduce customer churn. Lowering attrition by even a few percentage points can have a profound effect on the overall business. By offering more products and appealing to more customers, retailers can create a sustainable differentiation in a crowded marketplace.
Registration is 50% off for a limited time, so register now for only $199.
About The NYC Energy Marketing Conference:
The mission of the NYC Energy Marketing Conference is to provide the competitive energy industry with exciting conferences in premium locations at very affordable prices. The goal of the conference is to bring together hundreds of energy companies, utilities, marketers, vendors and suppliers in the competitive energy industry to network and learn more about our industry.
About Advanced Energy Capital ("AEC"):
AEC is a specialty finance firm dedicated to providing affordable and innovative financing solutions to the Retail Energy Provider, Energy Efficiency, Energy Storage and Renewable Energy industries. AEC's flexibility allows it to focus on small and medium size businesses and its capital pool permits it to fund significant projects and pipelines of opportunity. AEC's clients have tapped into both senior as well as junior tranches of capital to jump-start their growth when needed. By virtue of AEC's strategic alliances with several national power and gas wholesalers, AEC is able to provide capital in almost any scenario. On the Energy Efficiency and Energy Storage side, AEC's innovative structures, featuring 'zero-down' customer structures, have helped its clients grow dramatically.
About TrustedTPV:
TrustedTPV is one of North America's leading providers of third party verification, offering live operator, automated and WebTPV verification services: the right solution for every marketing channel. TrustedTPV, a woman-owned company, provides verification and recording services to the deregulated energy industry as well as telecom & cable, financial services and healthcare. Regardless of your marketing channel, TrustedTPV ensures that you have an easily retrievable record of every transaction, giving you the confirmation you need.