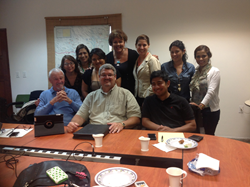 We are so blessed to be apart of this project, says Paula Guy, CEO of Global Partnership for TeleHealth.
Waycross, GA (PRWEB) July 30, 2014
Global Partnership for TeleHealth (GPT) in partnership with Jackson Healthcare Foundation traveled to Honduras to implement telemedicine at three Predisan Good Samaritan Clinics in Honduras. "The Jackson relationship with GPT is to conduct a pilot at Predisan to determine the efficacy of this system in a remote, international setting. The primary interest is in its clinical applications, but also testing the technology as it applies to biomedical equipment maintenance and repair" states Charlie Evans, Jackson Healthcare.
Paula Guy, CEO, GPT was accompanied by team members, Les Evans, Dilcia Turcios, and José Espana. Also present was AB Short, founder of Med Share; Dr. Roger Madrid, family practice physician; Dr. Pedro Meza, OB GYN; and Dr. Amanda Madrid. They were trained on the telemedicine technology, including the peripherals, software, and portable ultra sound system. Visits were made to very rural clinics including Culmi-Cesamo Clinic, Culmi- El Cerro Clinic, Las Cabas Clinic, and Agua Caliente. Dr. Meza performed an ultrasound with the portable system from one of rural clinics back to the main clinic and was amazed at the quality. Doctors at Predisan now have the capability of seeing patients in the most remote areas using the telemedicine equipment. They also have instant access to physicians in the USA for consultations. Since the installations have been completed, over 20 consultations have been successfully conducted.
Dr Amanda Madrid, a native of Honduras, came to Predisan in 1987, one year after the ministry began. She is the mission's founding medical director and the founder of CEREPA addiction treatment center. "She is the most amazing woman I have ever met and has given her life to serving the people in Honduras. We are so blessed to be a part of this project. Jackson Healthcare Foundation, GPT and Predisan are changing lives in Honduras, states Paula Guy.
If you are interested in assisting with the expansion of telemedicine in Honduras, contact Global Partnership for TeleHealth to find out how you can become a part of the medical mission program.
Global Partnership for TeleHealth is a non-profit organization with a mission to connect
and provide healthcare globally. GPT brings unparalleled success in the application of telemedicine programs. With active programs in many states and different settings, GPT operates telehealth which provides access to healthcare, allowing to effectively manage costs globally in settings where healthcare has never been provided.
For information visit http://www.gpth.org.