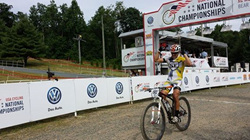 Four times Florida State champion Robert "Bob" McCarty has won the men's Masters categoryat the USA Cycling Cross CountryMountain Bike National Championships on his Stradalli 29er.
Miami, FL (PRWEB) July 23, 2014
Stradalli Cycle, the high performance carbon bicycle manufacturer, is pleased to announce that professional cyclist Bob McCarty is the new men's Masters USA Cycling CrossCountry Mountain Bike National Champion. Bob won the title on a full carbon
Stradalli 29er hardtail Mountain Bike. McCarty, who has been riding professionally since 2010, beat his rivals Gregg Galletta and Eric Schofield by over four minutes with a gold medalwinning time of 1:38:07. Robert is no stranger to winning. He has been the Florida State Champion no less than four times, winning in 1997, 2011, 2012, and 2013. As well as being ranked as the number one 40 to 49 year old in the USA, Bob also recently took the podium at the 2014 Mellow Johnnys Classic and then in April he went on to win the 2014 Sea Otter Classic in Monterey, CA.
Bob rode a full carbon Stradalli 29er hardtail Mountain bike during the CrossCountry Mountain Bike National Championships. The frames on Stradalli's mountain bikes are made using 100% carbon fiber and have a tensile strength of 50 tons per square cm. This makes the frame strong but light, the ideal combination for mountain biking. "Bob McCarty has proved again that he is a world class athlete," said Thomas Tom Steinbacher, CEO of Stradalli Cycle. "We are proud that he was riding one of our bikes and we know he plans to ride the same bike in more events this year to get the top step, and test all our products."
Now that McCarty has won the Nationals in PA., he now plans to go to the World Cup in NY., and the World Championships in Norway. After that he plans to return to the USA to defend his Florida State Title for a 5th time. The USA Cycling CrossCountry Mountain Bike National Championships take place every year at the Bear Creek Resort in eastern Pennsylvania. This year's the event was held between July 17 and 20.
About The Stradalli Cycle Company The Stradalli Cycle Company is based in South Florida and sells worldwide to the keen athlete who demands the best equipment. With years of experience in both high tech manufacturing and design as well as a love for cycling, Stradalli brings passion and innovation to the road racing and time trial markets.
Contact
http://www.stradalli.com
sales(at)stradalli(dot)com
954-283-8585