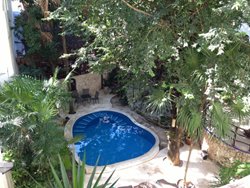 This is, without a doubt, one of the better opportunities for condo ownership anywhere near 5th Av in Playa del Carmen.
Playa del Carmen, Mexico (PRWEB) July 24, 2014
Built in the year 2000, this Playa del Carmen condo is offered for sale by its original owner and features granite counter tops, tile floors and spacious living areas - all less than half a block from the world famous 5th Av, a vibrant and lively pedestrian only street that features world class dining and entertainment but mixed with the feel of local Mexican shops and the unique feel of the Mexican Caribbean.
"This is, without a doubt, one of the better opportunities for condo ownership anywhere near 5th Av in Playa del Carmen," says Steve Didier. "At this price it's an absolute steal and is going to make someone a lot of money."
Even with this amazing location, this condo complex enjoys a level of privacy and security that is seldom found near tourist areas. As close to the action as it is, it is still a very quiet and private enclave with gated security - the best of both worlds and a unique find in the world of Playa del Carmen real estate.
Less than 2 blocks from some of the most famous white sand beaches in the world, this is a rare opportunity to stake out a claim in paradise at an unheard of low price.
See the full listing for this condo in Playa del Carmen here.
Playa del Carmen is the fastest growing city in Latin America and one of the hottest real estate markets in the world. Home values are appreciating at a steady pace and investors are starting to come from all corners of the globe to take advantage of the incredible development that is starting to take place here.
Huge international companies are beginning to invest in Playa del Carmen and the changes in the landscape of the city are growing more apparent by the day. Part of the reason is the tourism that the Riviera Maya sees on a yearly basis - occupancy rates for Playa del Carmen averaged 79.4% over the course of 2013, second only to Macau in China. These incredibly low vacancy rates, combined with the area's stunning natural beauty, provide an opportunity to not only invest in a growing and stable market, but to enjoy the lifestyle that is unique to this area of the Caribbean.
The expert brokers at American Realty can provide the highest levels of service and a true sense of confidence to foreigners considering investing in Mexico. American Realty has been helping Americans and Canadians buy real estate in Playa del Carmen since 2005 and is considered the go-to real estate company in Playa for retirees, second home buyers, expats and investors who are looking to maximize their return while avoiding the many pitfalls that can be encountered when buying real estate in Mexico.
For information on this condo or any other real estate in Playa del Carmen, please contact Steve Didier at American Realty. Americans and Canadians can call without paying international rates at 303-317-6639 or by email through the website, and a foreign investment specialist will get back to you within one business day.