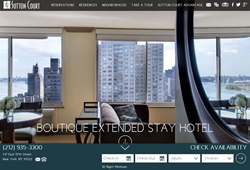 DALLAS,TX (PRWEB) November 02, 2014
With an address like 417 East 57th Street, hotel guests can anticipate lodging in New York City with dazzling views, exceptional convenience, and exquisite comfort at the Sutton Court Extended Stay Hotel. One glance at the newly designed SuttonCourt.com says it all with the Manhattan Skyline and the East River view. Elegant appointments, sophisticated interior design, ideal location, and enchanting architecture are introduced in panoramic display throughout the responsive website that automatically scales to desktop, laptop, mobile phone or tablet. The website can be translated into 10 languages with one click or tap; Trip Advisor and social media icons are provided for quick reference.
The 133 unit boutique hotel has fully equipped kitchens, spacious rooms and closets, a choice of one and two bedroom suites and two, three and four bedroom townhouses. These offerings are displayed in 3D artistry along with compelling photography and video. Rooms are generally three times larger than a typical city hotel room. The website shares features such as king-sized beds with luxury linen, widescreen televisions, picture windows, onsite laundry, fitness center, available housekeeping and laundry services, and a twenty-four hour doorman.
The web design includes an interactive neighborhood map complete with online ratings, search function and Walkscore overview. Detailed directions for air, rail, subway, car and cab services are included. Sutton Court is easily accessible to the Queensboro Bridge and Roosevelt Island Tramway.
The online reservation system presents 3D layouts of the unit types and sorts by unique vistas. A web visitor simply sets the arrival and departure dates and selects a favorite unit type. If a preferred unit is not available on those exact dates, the website offers a flexible date alternative so they can make a reservation for similar time periods. Once selected, reservations are made securely via InnRoad.com through seamless integration. The Sutton Court management team can easily access the website's content management system to create updates, such as adding locations to the neighborhood map, editing frequently asked questions, coupons, amenities, and spotlight announcements as an example.
Whether for a month or a year, Sutton Court is an idyllic place to call home when on an extended stay in New York City.
About Spherexx.com® Advertising Agency | Software Development | Business Intelligence
Spherexx.com is recognized as an established leader for website, Internet marketing and software development services since 2000. With offices located in Tulsa, Dallas, and Houston, the company has been distinguished as one of INC5000's fastest growing companies. Spherexx.com is a recipient of International Summit Creative Awards for creative and communication excellence and Internet Advertising Competition (IAC) awards for best real estate website and for outstanding websites. Spherexx.com is also a Webby Honoree and has also received W3 Video awards from the Academy of Interactive and Visual Arts for B2B branded content and promotional branding. Multi-Housing News awarded two Spherexx.com products with Technology Choice Awards: IloveLeasing for Lead Management and RentPush for Revenue Management for superior service and innovation.
Spherexx.com offers a wide selection of professional services including web design and development, touchscreen kiosks, Internet lead generation tools, online advertising, consulting, advanced mobile technology, apartment lease-up marketing consulting, and search engine performance. The company also provides branding services, video/multimedia production, print media, and copy writing, as well as website and email hosting, database solutions, pay per click, e-commerce solutions and custom programming.
The company has developed CRM (customer relationship management) products, marketing and lead generation tools that allow clients to better manage and convert leads to leases and sales and increase property values. These applications are branded under ApartmentWebsites.com, Messagekast.com, ILoveLeasing.com®, MarketSurveyTools.com, RentPush.com® Revenue Management Asset Optimization and RentIntel Business Intelligence. Spherexx.com provides web-based prospecting, marketing, advertising management, and support services.