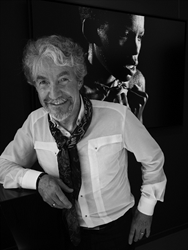 The concept was to find the path of the artist to focus on one image at a time.
Nice, France (PRWEB UK) 25 July 2014
Nice Properties Real Estate Group is proud to announce its support for talented local artists on the French Riviera through their new partnership with photographic art gallery Dark Room Galerie, created by photographer Dominique Jaussein and his wife Veronique Champion-Jaussein.
This atypical photographic art gallery was inspired by the vintage optical device known as the 'camera obscura' that eventually led to the invention of the camera. The gallery features a dark room space where images are projected one by one so that the viewer can be completely immersed in the emotion communicated by each photograph presented.
"The concept was to find the path of the artist to focus on one image at a time.", states Dominique.
When asked about the concept of utilizing this creative method of presenting the photographs Dominque explains, "This piece invites visitors to become an image reader."
He further adds, "This idea provides insight into the work, the search for the artist. Not to be overwhelming by too much information and to digest every detail of an artistic work."
It was the impressive and provocative black and white photography pieces in the Dark Room Galerie that drew the attention of Nice Properties.
According to Juanita Viale, International Marketing Manager for Nice Properties, "When we find companies that align with our brand and the needs of our clients, we use that opportunity to create a partnership that in the end will directly benefit our clients. Dark Room Galerie not only fits these two criteria, but also gives us the chance to support local talented artists on the Cote d'Azur. Dark Room's photographic art is simply fascinating."
The gallery was recently inaugurated on June 4th where the mayor of Nice, Christian Estrosi attended and where Dominique successfully introduced the high point of his impelling exhibition called "d'Ebène et d'Abîme" (Ebony and Abyss). Also recently exhibited on July 23rd, was the much anticipated works of photographer Xabier Escalere – for his series "tURNdOWNsIDEuP".
Starting August 1st, Nice Properties will have some select pieces from Dominque Jaussein's photographic collection on exhibition at the Nice Properties Opera Agency during office hours 9am-5pm, and is located on 11 rue Saint Francois de Paule in Nice.
About Dark Room Galerie
The Dark Room Galerie is located on 12 rue Maccarani in Nice and to contact gallery, you can call +33 04 93 76 74 59, email contact(at)darkroomgalerie(dot)fr or visit their website http://www.darkroomgalerie.fr
About Nice Properties
Nice Properties is the French Riviera's leading local real estate group specializing in the sale of luxury villas, vacation homes, apartments, new build residential projects and commercial real estate. Offering the most effective professional multi-lingual network of real estate professionals with 5 agencies along the Cote d'Azur from Cannes to Villefranche and two specialized departments for New Build and Commercial real estate. They provide a sophisticated and seamless platform for the best real estate opportunities and investments on the French Riviera along with a strategic marketing portfolio that covers both national and international markets. To find out more information please visit http://www.nice-properties.com.