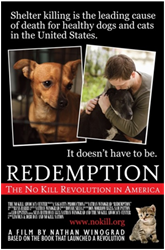 We are elated that Mr. Winograd has selected Austin for the Texas premiere screening of 'Redemption.'
(PRWEB) July 24, 2014
Based on the award-winning, highly-acclaimed book of the same title, "Redemption," a documentary film about the No Kill revolution in America by author and national No Kill advocate Nathan J. Winograd calls attention to the estimated four million animals that are losing their lives annually in animal shelters across the nation and, more importantly, offers a solution.
"Redemption tells the story of animal sheltering in the United States – a movement that was born of compassion and then lost its way," explains Winograd, "But there is hope. Over the last several years, progressive communities across the country have put into place a series of innovative programs and services that have ended the killing of homeless companion animals in their communities. Their success proves that there is a blueprint for ending the killing, and it is incumbent upon animal lovers nationwide to ensure that they are implemented in every shelter in our country."
The film covers the history of animal sheltering in the U.S., beginning with the 1866 founding of the first SPCA in New York City, the rise of the No Kill movement in the 1990s, and continuing to today's No Kill success in diverse communities across the nation.
Austin, Texas, America's largest "No Kill" city---meaning that its open-admission animal shelter saves at least 90% of all impounded animals--- is heavily featured in the film. The documentary includes interviews with Austin Animal Advisory Commissioner Larry Tucker, Austin Pets Alive! Executive Director Dr. Ellen Jefferson, Council Member Mike Martinez, and FixAustin.org founder and local lawyer Ryan Clinton.
"We are elated that Mr. Winograd has selected Austin for the Texas premiere screening of 'Redemption.' Mr. Winograd's leadership, advice, and expertise were a key secret ingredient to Austin's 'No Kill' success, and we're honored that he'll be in Austin for the show."
"Redemption" will be screened in Austin on Sunday, August 3rd, at 5pm at the Stateside Theater at the Paramount in downtown Austin. Tickets are $7 and are on sale on the Paramount Austin's website at austintheatre.org.
For additional information about "Redemption" as well as a list of upcoming screening dates and locations, visit nokill.org.