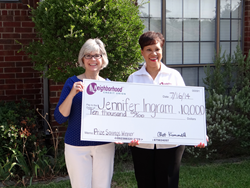 $10,000!?! Oh my gosh! Ahhhh! I can't believe it.
Dallas, TX (PRWEB) July 24, 2014
As a prize for her excellent savings habits, one surprised – and lucky – Mesquite woman received an extra $10,000 in cash deposited in her Neighborhood Credit Union Prize Savings Account.
A shocked Jennifer Ingram opened her door Wednesday morning to a group of Neighborhood Credit Union leaders and a giant $10,000 check with her name on it.
"$10,000!?! Oh my gosh! Ahhhh! I can't believe it," Ingram said, wailing her hands in the air with excitement. "I'm shocked. I had no idea."
Neighborhood Credit Union Senior Vice President Carolyn Jordan explained that Ingram's name had been drawn from the ranks of the credit union's Prize Savings Account holders for demonstrating exceptional saving habits.
"On the behalf of Neighborhood Credit Union, I want to present this $10,000 to you as our June Prize Savings Winner," Jordan said. "We know that your excellent saving habits will serve as an inspiration for others."
Neighborhood Credit Union created the Prize Savings Account to encourage more people to save money and plan for their future by rewarding good saving habits with prize drawings throughout the year. The credit union offers an array of products that reward members for everyday banking. The Prize Savings Account is merely one example that demonstrates this mentality.
"It's very important to be a saver; we've been trying to do it our entire lives," Ingram said while gleaming back at her husband. "It's just something that you need to do financially - have something as a backup."
Ingram said she joined Neighborhood Credit Union in 2009, after her husband had a positive banking experience at the Mesquite branch. Her family has trusted the credit union with various products throughout the years including an auto loan, IRA and savings account.
"You guys are right in my neighborhood. The people at the branch take the time to talk to me; it's convenient and I'm helping support the community, which I really like," Ingram shared.
When asked what she might do with the unexpected cash, Ingram noted that a family celebration might be in order for her upcoming birthday. She also mentioned that they were planning to do some home renovations, so the funds would come in handy.
View the video of the surprise delivery by clicking here.
How the Prize Savings Account works: Neighborhood Credit Union members receive one drawing entry for every $25 monthly average balance in their Prize Savings Accounts. The greater the savings, the greater the chance a member has of winning. Members are eligible for monthly $1,000 drawings and quarterly $10,000 drawings. At the conclusion of each year, a Grand Prize winner is drawn for the $25,000 jackpot based on the average monthly balance in the savings account at the close of business December 31.
About Neighborhood Credit Union: Neighborhood Credit Union, the oldest credit union in Dallas (chartered April 18, 1930), is a not-for-profit financial organization serving Dallas and Ellis counties, as well as the city of Arlington. With branches in Oak Cliff, North Dallas, Richardson, Arlington, Mesquite, Duncanville, Waxahachie, Lancaster, Grand Prairie, and Coppell with assets topping $350 million; Neighborhood Credit Union has a membership of 32,000 and continues to welcome new members daily. For more information, call (214) 748-9393 or visit http://www.myncu.com.