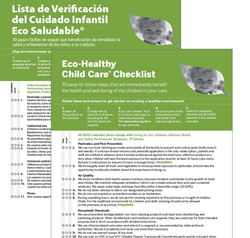 This program provides low-cost practical tips for protecting children from harmful chemicals.
Washington, DC (PRWEB) July 25, 2014
The sole national program comprehensively addressing environmental health in the child care setting has released its updated checklist, available in English and Spanish.
The Eco-Healthy Child Care® (EHCC) program's checklist, which has already been adopted by more than 2,200 child care providers in the U.S. and Canada, has just been upgraded to reflect the latest research and to better support the EHCC program and child care providers.
Child care providers who meet the checklist requirements are recognized by the EHCC program through the program's 2-year endorsement and marketing benefits such as a listing on the EHCC Web site, where parents go to look for a healthier child care setting. The checklist and other free EHCC resources are available at http://www.cehn.org/ehcc.
According to EHCC National Director Hester Paul, "EHCC's advisors and staff worked closely with the U.S. EPA experts to provide the best, clearest and most concise guidance" on topics such as lead and pesticide exposures. One modification on the checklist was a stronger emphasis on the Federal requirements that come into play when a child care provider renovates or paints a facility that may contain lead-based paint.
"Although great progress has been made in decreasing lead exposure, thousands of U.S. children still have elevated blood lead levels. We know that addressing concerns like these can be overwhelming. This program provides low-cost practical tips for protecting children from harmful common chemicals," Ms. Paul said.
The checklist now also rewards EHCC-endorsed facilities when they renew with a new renewal discount. The Children's Environmental Health Network operates the science-based and award-winning EHCC program. For more information, visit http://www.cehn.org/ehcc.