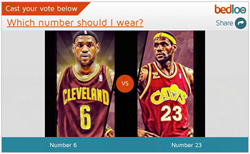 Everyone here at Bedloo is excited to help Lebron make this next big decision between wearing No. 6 or 23.
Los Angeles, CA (PRWEB) July 24, 2014
Lebron James, the four-time NBA MVP, turned to social media last week to help him choose which number he'll wear next season. James wrote "6 or 23...." on his Twitter account and posted photos on Instagram of him wearing No. 6 and No. 23 Cleveland Cavs jerseys. Bedloo, which just passed 4 million voters, has created the question Which Number Should I Wear? for Lebron's fans to vote on the No. 6 or 23 jersey for his Cleveland return. Bedloo, based in Sherman Oaks, CA, allows users to compare two photos, videos or music tracks for a side-by-side A/B comparison and share it in their social media stream including Facebook, Twitter and Google+. The user's followers can vote A or B and all results are tallied in real time and displayed in either votes or percentages to help the user make a final decision. The Bedloo question can be easily embedded on any website, post or blog. You can directly go to http://bedloo.com/b/FnF to vote on Lebron's Cavs jersey number.
James wore No. 6 during his four seasons with Miami and also on the U.S. Olympic team. He used No. 23 in high school and during seven seasons in Cleveland and has had the top-selling jersey in the NBA six times during his career. Bedloo, selected in February as a Top 100 Tech Start-Up at San Francisco's Launch Festival, has seen a serious spike in activity on the app since posting the Lebron jersey two-choice question on the platform.
"I wore my Bedloo T-shirt to a few NBA Summer League games last week in Vegas and fans kept asking me if we were going to officially post the Lebron jersey question on our app so we finally did and it's been electric," says Daron Destiny, CEO and co-founder of Bedloo. "As a basketball fan and businessman, I am proud of Lebron's LRMR management team including agent Rich Paul, Maverick Carter and all those guys who are instrumental in Lebron's decision to bring it all back to Cleveland. This is a great story for the NBA and sports in general and now a tech start-up is helping King James pick his jersey number. You gotta love it." James signed a two-year, $42.1 million contract with the Cavs.
Launched in August of 2013, Bedloo gained early traction in the music industry as everyone from The X-Factor's contestant Jeff Gutt to Atlanta's underground rap trio, Migos, used the app to allow fans to vote on numerous decisions like concert clothing, song selections, album artwork, etc. Currently, the Bedloo app is featured prominently in the new DJ Khaled music video featuring Jay-Z & Rick Ross titled "They Don't Love You No More". In the video, DJ Khaled uses the Bedloo app to vote on which luxury car he should drive for the evening, Mercedes or Bentley? Destiny added, "We made our immediate traction in the music industry and now our users are generating more and more sports content as well." Bedloo is fully integrated with YouTube, Vimeo, Soundcloud, Facebook, Twitter and Google+.
You can go directly to this link http://bedloo.com/b/FnF to vote on Lebron's jersey. Also, you can download the Bedloo app in the App Store or go directly to http://www.bedloo.com from any Android or mobile device. The new Android version of the Bedloo App will be released in September 2014.
# # # # # # #
About Bedloo
Bedloo is a multimedia lifestyle choice brand that currently has released the an online voting platform that allows users to ask a simple two-choice question by comparing any two photos, videos or audio files SIDE-By-SIDE for an A/B comparison then share it instantly with their social media network via FACEBOOK, TWITTER and GOOGLE+ so everyone can give their opinion by VOTING one of the two choice answers. All votes are tallied in REAL TIME and users instantly receive all data including number of votes, percentages, etc. The Bedloo Mobile voting App iOS version is available in Apple's APP store and the Android version will be released in the fall of 2014. The Bedloo voting app can also be accessed from any mobile device by logging onto http://www.bedloo.com. Bedloo was founded by Daron Destiny, Todd Jones and Vincent Plummer and was launched in August of 2013. Bedloo currently has over 4 million voters worldwide.
About LRMR Management
LRMR, based in Akron,OH, is a marketing management firm founded by Maverick Carter, a childhood friend of LeBron James. LRMR currently represents Lebron James, and operates alongside the LeBron James Family Foundation, his philanthropic organization focused on education and at-risk youth. LRMR is not to be confused as his agent Klutch Sports Group. James' official website in http://www.Lebronjames.com and the LRMR site is http://www.LRMRmanagement.com.
Press Contact for Bedloo:
Rosemarie Li (Bedloo Public Relations)
Ph. 818-296-0058
Email: rosemarie(at)bedloo(dot)com