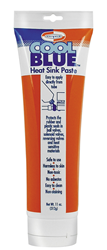 Herramientas De Calidad Que Trabajan Con Usted
Fort Lauderdale, FL (PRWEB) August 04, 2014
Uniweld releases another Spanish video to meet the needs of the Spanish speaking population in the U.S. and international markets. More than 50 million people (approximately 15%) speak Spanish in the U.S. alone. Additionally, Spanish is the national language in over 20 sovereign states, totaling around 423 million Spanish speaking people. Compare that to the U.S. population of 315 million people, and one quickly sees why Uniweld places importance on providing Spanish content.
When brazing copper tubes in the HVAC & refrigeration industry, ("Cuando se suelda tuberia de cobre en la industria de HVAC& refrigeracion") Cool Blue™ can be the technician's best friend, as it will help to prevent the overheating of system components which are in in line with the copper tube being brazed. The Cool Blue™ heat sink paste will help protect the rubber and plastic seals in ball valves, solenoid valves, reversing valves and other heat sensitive materials.
Uniweld's Cool Blue™ Heat Sink Paste utilizes a unique cool heat transfer indicator which changes colors as the paste absorbs heat. Utilizing Uniweld's Cap'n Hook® MTF-5 multi-flame brazing tip, the video demonstrates the overheating protective properties of Cool Blue™, by showing 2 copper tubes being brazed side by side. Each tube is wrapped with a metal wire which has a melting temperature of 430 °F (221 °C). The tube on the left side is unprotected, whereas the tube on the right side, protects the metal wire by placing Cool Blue™ on the copper tube, between the metal wire and the brazing point. The unprotected metal wire melts away, whereas the metal wire protected with Cool Blue™, remains intact.
Watch the video ("Vea el video") to see how Cool Blue™ can keep cash in your pocket by avoiding costly repairs of expansion valves, reversing valves, solenoid valves and other components with heat sensitive materials, due to overheating.
Cool Blue™ is but yet another one of Uniweld's product offerings which provide you with, Quality Tools That Go To Work With You®".