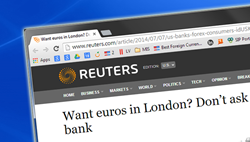 "Ask around in some of the City's major currency dealing rooms andtraders say they use the Best Foreign Exchange.comfor money forbusiness trips and holidays."
London, UK (PRWEB UK) 5 August 2014
Researching travel money market trends in London, Reuters reported on the 7th of July that customers are walking away from banks for their travel money needs. Based on a number of consumer surveys the report also identified BestForeignExchange.com as the best exchange rate provider in the UK.
The Reuters report talked about interviews they had done with people needing travel money, "Ask around in some of the City's major currency dealing rooms and traders say they use the company (BestForeignExchange.com) for money for business trips and holidays."
Further commenting on BestForeignExchange.com Reuters said that the company is operating in an area where the world's biggest banks are located and dealing with customers well aware of the foreign exchange market. They come out on top in consumer surveys due to good rates and high quality of service offered.
"We are extremely proud of the recognition and wide coverage by the world's largest news agency. The story reflected our market defining approach towards the travel money industry in the UK," stated Trevor Samuel, Marketing Manager of BestForeignExchange.com.
About Best Foreign Exchange.com
Owned and operated by Thomas Exchange Global, BestForeignExchange.com offers the most competitive exchange rates in London and customers that reserve currencies online will be assured the same exchange rate until close of business on the particular day despite any adverse fluctuations. They stock the widest range of foreign currencies in London with over 120 types of foreign bank notes. All foreign currency buy/sell transactions are free of any commission or charges.
Thomas Exchange Global also offers International Money Transfer Service where funds can be remitted to overseas bank accounts within 1 to 2 days. With commission free service for transfers over £10,000 backed by competitive exchange rates, customers are assured of a better deal and a substantial saving compared to banks and money brokers. Thomas Exchange Global branches are located at Strand, Victoria Street, Liverpool Street, Hammersmith, Cannon Street and Wormwood Street.
For further details visit http://www.thomasexchangeglobal.co.uk or call 020 7240 1214