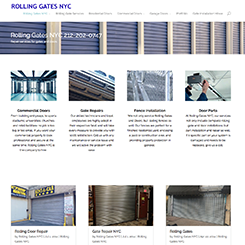 Find your gate from our new gallery of pictures. Select a gate that best suits your needs.
NY, NY (PRWEB) August 05, 2014
Rolling Gates NYC, New York's premiere rolling gate service provider known for its prominent online presence, has recently launched a revamped version of their website. Retaining the same URL, the new website features simplicity, accessibility, and a higher level of user-friendliness. According to the spokesperson for the company, the website is renewed in order to improve the overall user experience.
The spokesperson also commented on how the new website is focused more on the users rather than the company. Explaining his opinion, he said, "When it comes to websites, most businesses impose what they want their customers to do, but being a customer-centric company, we commissioned a design that offers what the users want. Whether they want information about a particular product or a specific service, they can find it without much trouble. The website's ability to engage and inform the users will naturally convert into better sales."
Other than the website's technical features and aspects, the company has also added a plethora of new resources and content to the new website. One of the most significant additions in this aspect is the 'Rolling Gate Videos' section. The section redirects the users to Rolling Gate NYC's official YouTube channel where users can watch videos about various products, and their installation and repair process. The videos are created by rolling gate experts in order to provide users with the information required to make the best choice.
The website also has a portfolio section featuring a gallery of Rolling Gate NYC's previous projects. By clicking on each picture, the users can read more details regarding the project, initial requirements, challenges, and the final solution. "The purpose of sharing all this information with our customers is to help them make the right decision, and more importantly, to make that decision with complete peace of mind," the spokesperson added.
Rolling Gate NYC is a full service rolling gate and commercial door service company that offers repair, installation, and maintenance. The company has built its reputation through its excellent customer service, and the new website, according to the spokesperson is expected to take customer satisfaction to a whole new level. The company offers 24/7 emergency gate repair service.
The new website is conveniently accessible and viewable on handheld devices. For more information regarding the Rolling Gate NYC's new website or their services, please visit the website http://www.rollinggatesnyc.com/