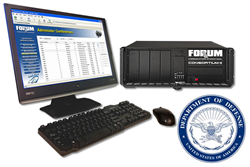 Forum Communications has once again demonstrated its industry leadership with the design and approval of the first UC Conference System to connect directly to the DISN using native Assured Services SIP" said Noel Schnell, VP, Forum Communications.
Richardson, Texas (PRWEB) July 25, 2014
Forum Communications announced today the Consortium II Conference Server, Release 9.1 has been approved for listing on the Department of Defense (DOD) Unified Capabilities (UC) Approved Products List (APL). The Consortium II passed the rigorous testing required for the Interoperability (IO) and Information Assurance (IA) Certifications necessary for connection to the U.S. Defense Information Switched Network (DISN).
Forum Communications once again demonstrates its industry leadership, with the design and deployment of the first Unified Capabilities audio conferencing system using native Assured Services Session Initiated Protocol (AS-SIP) to interface directly with the Local Session Controllers (LSCs) on the DISN.
The Joint Interoperability Test Command (JITC) the Certification Authority for the UC APL products issued the following memorandum:
"Forum Communications Consortium II with Software Release 9.1meets the critical requirements of the Unified Capabilities Requirements (UCR), Reference (c), and is certified for joint use on the DISN as an Audio Only (AO) Unified Capabilities Conference System (UCCS). The system was tested with and is certified for use with Assured Services Session Initiation Protocol (AS-SIP) directly connected to the following Local Session Controllers (LSCs): REDCOM High Density Exchange (HDX), REDCOM SLICE, and the Avaya AS5300. The SUT is also certified with AS-SIP routed via the Avaya AS5300 to any other Local Session Controller (LSC), Session Controller (SC) or Softswitch (SS) listed on the APL."
"The SUT is also certified for use with any LSC, SC, SS, Multifunction Switch (MFS), End Office (EO), Small End Office (SMEO), Private Branch Exchange (PBX) 1 or PBX2 that is or was previously on the UC APL certified with a Primary Rate Interface (PRI)."
The Consortium II Conference Server provides audio conferencing capabilities that can support up to 2000 participants over multiple conference types, including Meet Me and Preset Conferences. The new release includes WebView, a secure, browser based user interface which provides system access and does not require browser plug-ins. System administrators and users can now access the system to schedule, create and modify Conferences and Participants over NIPRNet or SIPRNet, using the local sites Common Access Card (CAC) over the Public Key Infrastructure (PKI).
The system includes features to support Pre-Set Blast Dial Conferencing as well as Blast Notifications of voice, text, and email messages. The new release and platform improvements ensure a smooth migration path for JITC Certified Consortium II systems already in the field, and allow them to take advantage of the significant productivity improvements provided by the transition to all Assured Services VOIP technology within the DOD.
The testing, sponsored by Air Force Space Command, Vandenberg Air Force Base and Northern Command, Peterson Air Force Base, took place at the DISA Global Information Grid Network Test Facility, Fort Huachuca, Arizona. With the listing on the Approved Products List, the Consortium II continues to provide the most flexible, robust and sophisticated audio conference capabilities available for government and military applications.
The APL Approval Memorandum is available at:
https://aplits.disa.mil/dispatchDocumentAPL.do?AfSlT09LnMtCgXar6O219A==
The JITC Test Certification Extension can be viewed at:
http://jitc.fhu.disa.mil/tssi/cert_pdfs/forumConsortium2sr91_may14.pdf
The approved products list can be viewed at:
https://aplits.disa.mil/processAPList.do.
About Forum Communications
Forum Communications has been an industry leader in Conferencing, Collaboration and Emergency Response solutions for more than two decades. With a commitment to design quality and customer satisfaction, Forum serves Business, Federal, State and Local Governments and DOD installations around the world. Forum continues to demonstrate our commitment to customers with on-going enhancements, innovative feature sets, and award winning product solutions. Forum products are purpose built and designed using the latest technology and user interface design practices. From conferencing to emergency response solutions, Forum continues to deliver.
For more information call Forum Communications at 972-680-0700 or visit our website at:
http://www.Forum-com.com, or see our new Cloud service solutions at: ForumCloud.net.