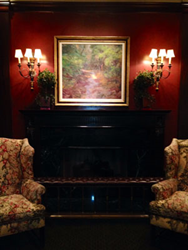 It was an honor to be chosen by the Coronado Club for this upgrade.
Houston, TX (PRWEB) July 28, 2014
The Coronado Club has been a fixture in the downtown Houston area since 1956. Now the Club has selected Phantom Lighting, a local Houston area company, to upgrade its own fixtures to add modern day energy efficiencies, while keeping the charm and historic ambiance of its iconic structure.
"The Club knew that it was time to look at energy efficiencies to replace obsolete bulbs, control their energy costs and create a more sustainable environment," said Tom Kretzschmar, Phantom Lighting's owner. "Since the club has supported local businesses in Houston for over 55 years, we were thrilled that they decided to award the job to a company who was Houston-based."
Phantom Lighting has an expertise in incorporating the newest technological upgrades with easy installation, maintenance and efficiency of use, while at the same time respecting the importance of preserving the integrity of a location's historical significance.
For the Coronado Club, Phantom Lighting incorporated a proprietary technology to enhance the Club's motif. LED retrofit fixtures were applied to replace obsolete bulbs, yet work with the existing display cabinets. Other fixtures included the Ultra Cove Mount and Elite Vertical Mount, which were spread throughout the club to provide additional lighting angles.
"It was an honor to be chosen by the Coronado Club for this upgrade," said Kretzschmar. "We have been working with companies in the Houston area since 1981. Preserving our great city's history, while introducing new technology in sustainability for energy conservation is the goal behind our approach to lighting products and services."
About the Coronado Club:
In the summer of 1956, the Bank of the Southwest building was completed as the first major office building since the Great Depression to be located west of Main Street: a decision considered daring in Houston financial circles. Colonel W. B. Bates, Chairman of the Bank, along with Ed Rotan and Tenneco Chairman Gardiner Symonds, organized what was to become Houston's premier lunch club located in the bank building. To provide the ideal ambiance for the Club, the Committee engaged Kenneth Franzheim, a well-known and highly regarded Houston architect. It was he who established the Nineteenth Century European motif that we continue to enjoy today. He also gave the Club its name after Francisco Vasquez Coronado a Sixteenth Century Spanish explorer.
Throughout its distinguished history the Coronado Club has remained a bastion of strength and financial stability in Houston's downtown business district. Members of the Coronado Club are among a family of local and national leaders who throughout the history of the Club have played a vital role in Houston's growth and who represent the highest standards in personal and business ethics.
About Phantom Lighting:
Phantom Lighting is a pioneer, Houston-based art lighting company and low voltage lighting manufacturer established in 1981 to service the lighting and design community. Phantom Contour Projectors and Phantom strip lights feature lighting technology that is completely unique, 100% proprietary, and found nowhere else in the world of lighting. Phantom's revolutionary approach to decorative picture lighting and low voltage display, shelf, and under cabinet lighting has taken it from humble origins to the level of an international leader in lighting manufacturing on two continents.