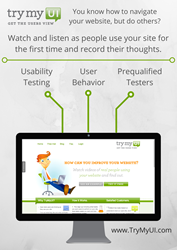 TryMyUI is applicable to your website, software, online store or even as a market research tool to analyze the user interface and experience of your competitors.
Seattle, WA (PRWEB) July 29, 2014
The increasing volume of data, competitive products and the Internet of Things has brands collecting more insight than ever before. The top brands that are digital have taken initiatives to listen and offer user-centered design. Current best practices call for spending about 10% of a design project's budget on usability.
The key to gathering valid usability data and quantifying this specific user behavior relies on approaching more engaging and qualitative means of collecting data. Survey Analytics, a leader in multi-platform survey technology, has branched out to extend qualitative offerings in addition to their tools to help companies "listen" both internally and externally. Following the product launch of FlashLet earlier this year in the HR technology and employee feedback space, the acquisition of TryMyUI will enable Survey Analytics to connect brands to interactive and narrative videos of real people using websites or software.
"The TryMyUI team have done a tremendous job and we see massive value in combining attitudinal and behavioral data as part of our global listening effort. We are excited to have TryMyUI as part our portfolio of services we offer," said Survey Analytics President Vivek Bhaskaran on TryMyUI joining Survey Analytics.
How TryMyUI Works
Companies sign up and provide the areas and tasks to be reviewed on websites, software or any other online digital efforts. There is also the ability to specify demographic profiles and the quantity of reviews. The price is just $35 per test, making it a very affordable usability testing service. Within just hours, TryMyUI provides the narrated videos of each user navigating the website. Major brands such as Amazon, eBay, Facebook, Verizon and Groupon have relied on TryMyUI for usability testing of online platforms.
TryMyUI is an online focus group composed of pre-qualified testers that are trained carefully to record their screen, give their voiced opinion and walkthrough any website, online process or software as new user. The testers point out areas where there are no problems, where they get stuck and provide suggestions for improvement. Not even 10% of testers that apply to participate make it through the screening process keeping the quality of the usability testing service higher than other competitors in the space.
"TryMyUI is very versatile and is not only for technology and software driven companies. The Bureau of Labor Statistics used the platform to test the effectiveness of their surveys. They use TryMyUI to get 'meta-feedback' or, feedback on their mode of collecting feedback. TryMyUI is applicable to your website, software, online store or even as a market research tool to analyze the user interface and experience of your competitors. With this information you gain access to see what users are gravitating towards and why," said Ritvij Gautam, Founder and Product Manager of TryMyUI. To learn more or to get a free trial, visit http://www.trymyui.com.
About Survey Analytics
Survey Analytics helps companies listen. The secure and scalable enterprise grade research platform connects companies to gather and manage insight both internally and externally. Additional features such as panel management, employee feedback tools, sample acquisition, API or SDK integration, mobile apps, powerful real-time reporting and analytics enable companies to perform 360 feedback initiatives in-house. Current customers include Zynga, Motorola, McGraw Hill, CareerBuilder and Agencies of the US Federal Government including the FCC, CDC and the GSA. For more information or a free trial, visit http://www.surveyanalytics.com.