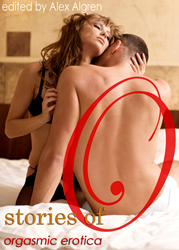 "Algren's Stories of O picks up where the classic novel left off and updates that oh-so-sexy literary trope. If you are looking for an extremely pleasurable read, look no further!"—Sean Lawrence, editor of Hot Rods
(PRWEB) July 28, 2014
Cleis Press, publisher of intelligent and provocative literature, announced the release of Stories of O: Orgasmic Erotica today. Alex Algren's Stories of O features tale after tale of characters lost in the bliss of orgasmic perfection that the mind (and especially the body) won't soon forget. Like Algren's previous compilations, the sensual collection is available exclusively on e-readers.
Warm up with Saskia Walker's steamy "Communal," a story about a college girl who seduces other students in shower stalls. Next, a couple discovers a devious use for their spatula while cooking breakfast in Kristina Wright's "(S)pan(k)cakes." In A. D. R. Forte's "Endymion," two models with statuesque bodies succumb to their mutual lust inside an artist's studio. A woman uses Kegel exercises to send her lover into bliss in Donna George Storey's "The Big O." In "Not Without Permission" by Sinclair Sexsmith, a dom considers allowing her submissive to come, but not before she's had some fun with her strap-on first. And finally, in Thomas Roche's "Butterfly's Kiss," an inexperienced dom visits an underground club and discovers a new bag of tricks.
What People Are Saying about Stories of O:
"Algren's Stories of O picks up where the classic novel left off and updates that oh-so-sexy literary trope. If you are looking for an extremely pleasurable read, look no further!"
—Sean Lawrence, editor of Hot Rods
A graduate of Mills College with degrees in semiotics and mathematics, Alex Algren lives in Oakland, California. She is an avid reader who writes and edits to make more things to read, and is the editor of Soaking Wet and Backdoor Pleasures. Currently working on a novel about revenge, she also quilts and volunteers at her local animal shelter.
Cleis Press publishes provocative, intelligent books across genres. Whether literary fiction, human rights, mystery, romance, erotica, LGBTQ studies, sex guides, pulp fiction, or memoir, if it's outside the ordinary, it's Cleis Press.